Press release
Looking after the grandchildren? Make sure it counts towards your State Pension
Grandparents caring for grandchildren under 12 could qualify for National Insurance credits that can top up their income in retirement.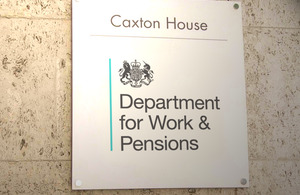 Thousands of grandparents caring for their grandchildren over the summer holidays could be missing out on the chance to boost their future State Pension, the government has warned today.
Many working-age grandmothers and fathers could qualify for Class 3 National Insurance credits for looking after children aged under 12 – which can be used to top up their income in retirement.
Half of Britain's 7 million working-age grandparents have a grandchild under the age of 16.
Pensions Minister Steve Webb is today urging grandparents who work hard to look after Britain's children throughout the year to claim what they are entitled to.
Steve Webb said:
Many grandparents are working hard all year round looking after their grandchildren, and it is important that they do not damage their own state pension rights as a result. Such grandparents are contributing to society just as much as someone in a paid job and should therefore be entitled to the same protection for their state pension as if they were in work.

The new system of transferable National Insurance credits means that grandparents need no longer lose out on building up a full state pension just because they are caring for a grandchild.
Working parents can give up the Child Benefit credits they receive and donate them to their child's grandparents or other adult family members for the previous tax year. Grandparents and parents must apply for the credits to be transferred.
Sam Smethers, the chief executive of Grandparents Plus, said:
Grandparents who provide childcare for their grandchildren play a vital role in enabling parents to work. Grandparents Plus and Age UK have estimated that the childcare they provide is worth £7.3 billion a year. Most acutely during school holidays, millions of parents are struggling to afford formal childcare and rely on grandparents to help out.

We really welcome grandparents of working-age who are providing such an important service being able to enhance their state pensions.
Top grandparent facts
Top grandparent facts include:
1 in 4 working families and 1 in 3 working mothers use grandparents for childcare
63% of all grandparents with grandchildren under 16 help out with childcare
1 in 5 grandmothers provide at least 10 hours a week of childcare
the proportion of grandparents who are of working age is set to grow as the retirement age gradually rises
More information
Applications for NI credits for caring for children under 12 need to be made to HM Revenue & Customs (HMRC) and must be signed by both the adult carer and the Child Benefit recipient. Applications need to be made in the October following the end of the tax year in which the caring took place.
Grandparents who have cared for their grandchildren during the tax year 2011/12 are able to apply for their credits now.
The credit is a Class 3 National Insurance credit and protects entitlement to basic State Pension and bereavement benefits for spouses and civil partners.
There is no minimum requirement for the number of hours of care in a week as long as the credit is transferred for a full week. For details of who can apply and how, visit www.gov.uk/national-insurance-credits/eligibility or phone the National Insurance Helpline on 0845 302 1479.
The new flat-rate State Pension, set above today's means-tested support of £145.40, is designed to provide certainty to people about what they will get in retirement. It will benefit women, and also the self-employed, who are currently excluded from qualifying for state second pension.
Figures in this release come from the Grandparents Plus briefing paper on grandparental childcare and their publication Doing it all?.
Press Office
Caxton House
Tothill Street
London
SW1H 9NA
London Press Office (national media and London area enquiries only – not questions about personal claims) 020 3267 5144
Out-of-hours (journalists only) 076 59 108 883
England and Wales (local media enquiries) 029 20 586 then 097 or 098 or 099
Scotland (local media enquiries) 0131 310 1122
Media enquiries for this press release – 0203 267 5108
Follow us on Twitter www.twitter.com/dwppressoffice
Published 26 July 2013