Longer jail terms for dangerous driving
Dangerous drivers who seriously injure others could spend up to five years in jail thanks to a new criminal offence, Ken Clarke announced.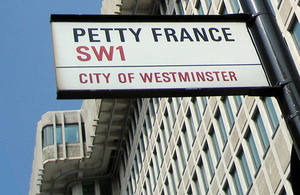 The new offence of 'causing serious injury by dangerous driving' will more than double the current maximum sentence of two years, allowing the courts to impose tougher punishments on dangerous drivers.
The changes will be taken forward as part of the Government's Legal Aid, Sentencing and Punishment of Offenders Bill.
Justice Secretary Kenneth Clarke said:  'We have listened to the victims of dangerous drivers, their families, MPs, judges and road safety groups and their experiences have directly informed these changes.
'Making our roads safer is a priority - five people died on our roads each day last year, so we need to do everything we can to further improve safety.'
Ellen Booth, from charity Brake, which supports bereaved and seriously injured victims of road crashes, said: 'This new offence finally means that serious injury is recognised within the title of the offence, and this recognition is vitally important to victims and their families.'
Legal Aid, Sentencing and Punishment of Offenders Bill
Published 7 October 2011