Long-term growth: innovation's role in economic success
Economist Mariana Mazzucato argues for a 'mission oriented' approach to investment in innovation at the heart of economic policy.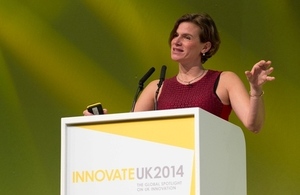 In an independent report, commissioned by Innovate UK, Professor Mazzucato, RM Phillips Professor in the Economics of Innovation at the Science Policy Research Unit at the University of Sussex, argues that policy should look beyond the current economic framework which she says is focused on fixing market failures.
Professor Mazzucato says that governments should not just 'level the playing field' and let the market decide the direction of change. She suggests that a new framework should recognize Government's role in creating and shaping new markets with the potential to transform economic growth, making it more innovation-led, as well as more inclusive and sustainable.
Professor Mazzucato said:
Regions around the world that have been successful in achieving smart growth have relied on public policy involving lots of 'picking' which we often fear will lead to failures. The truth is that innovation requires failures to find the wins, and the state—through a decentralized network of strategic public bodies— has often been one of the leading innovators.

By limiting our understanding of the role of the public sector to one that simply 'administers', 'fixes', 'de-risks', 'regulates', 'spends', 'meddles', we are unable to think creatively about how vision, risk-taking and investment by the public sector can lead to transformational economic change.

The real question is not whether or not to choose directions, but how to do it, and what should the future 'missions' be.
She argues that public policy could set the direction and route of change, and considers how public organizations could be structured so they accommodate risk-taking, learning and exploring of options.
Innovate UK commissioned this independent report by Professor Mazzucato as a discussion-document, rather than a policy statement. The views expressed in the piece are the author's alone, and do not necessarily reflect the views of Innovate UK.
Commenting on the report, Director of Strategy at Innovate UK Mark Glover said:
This independent report raises interesting points that policy makers and those of us involved in developing the innovation ecosystem should consider. The UK has a rich innovation system, but it is complex for the businesses trying to navigate it. We agree with Mariana that Government has a role in not just helping to simplify that system, but also to align it around important challenges.
Published 29 March 2015