World news story
London School of Economics to visit Quito, Guayaquil and Cuenca in February
The British Embassy announces the visit of The London School of Economics and Political Science (LSE) from the 17th-19th of February.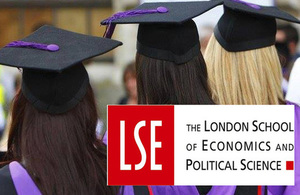 James Brown, Student Recruitment Officer at the London School of Economics, will visit Ecuador in February to give informative presentations on the wide variety of academic opportunities this prestigious British institution has to offer. There will also be presentations by Senecyt about the scholarship programmes available for Ecuadorean students.
The presentations will take place at the following times: Quito: Monday, 17th February – 18h30. Salón Los Nevados, Hotel Sheraton, Republica del Salvador and Naciones Unidas. Guayaquil: Tuesday, 18th February – 18h00. Sala Galo García Feraud, UEES (Universidad Espiritu Santo), Km. 2.5 vía La Puntilla, Samborondón. Cuenca: Wednesday, 19th February – 17h00. Aula Magna - Mario Vintimilla, Universidad de Cuenca. In order to attend the presentation, please register at the following link:
GREAT Education: LSE
The London School of Economics and Political Science is the world's leading dedicated social science institution. It was founded in 1895 and is recognised world-wide for its academic excellence. LSE offers 36 undergraduate programmes (Bachelors) and 142 postgraduate programmes (Masters). As a 'laboratory of the social sciences', LSE's academic profile spans the breadth of the social sciences, ranging from accounting, economics, law, business administration, anthropology, development, gender studies, urbanisation and more.
A total of 16 LSE alumni and staff have been awarded Nobel Prizes. Past speakers at LSE include Bill Gates, the Dalai Lama, David Cameron, Bill Clinton and Rafael Correa.
Around 67% of students studying at LSE are international students. The university has seen a significant growth in the number of Ecuadorean students, with six times more graduate offers this year (2014) than at this point last year (2013).
Published 27 January 2014