News story
London's Most Innovative Businesses and enterprising individuals receive recognition from the Queen
Representatives of 23 winning businesses from London will have the opportunity to meet Her Majesty The Queen and other members of the Royal …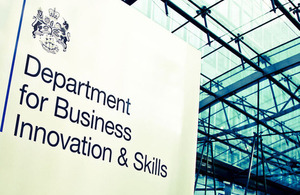 Representatives of 23 winning businesses from London will have the opportunity to meet Her Majesty The Queen and other members of the Royal Family: the ultimate recognition of their commitment to enterprise and innovation. Businesses are recognised for outstanding achievement in the categories of International Trade; Innovation; and Sustainable Development.
Before the reception, Business Secretary Vince Cable will present some of Britain's most enterprising individuals with The Queen's Award for Enterprise Promotion. This rewards people who have played an outstanding role in promoting the growth of business enterprise and entrepreneurial skills and attitudes in others.
Alex Hannon, Managing Director of tea manufacturer Mangajo, a winner in the International Trade category, said:
"Winning the Queen's Award has not only given the business a real momentum boost but has already created two new leads in Japan and Germany. The help that UK Trade & Investment (UKTI) has given us through its grants and advice has been invaluable in driving our business forward, resulting in increased opportunities, knowledge and experience, especially in countries we might not have had the ability to fully open up by ourselves."
Malcolm Miller, Chief Executive at another first-time winner, independent hospital The London Clinic, said:
"We are all delighted to have been honoured with this award. I am very proud of my team, who work tirelessly to ensure that all our international patients receive a warm welcome throughout their treatment and stay with us.
"This Award has helped raise the companies profile both in the UK and internationally. We would encourage other businesses to apply and give themselves a chance of enjoying similar success."
Oil and gas industry spare parts and equipment company United Corporation Limited, based in Wallington, is winning its second Award, in the International Trade category.
Managing director Karim Fatehi said:
"Winning the Queen's Award for the second time is a real stamp of approval. Since winning our first award in 2007, our business has trebled. Having the award opens doors for you, it puts you a step ahead of competitors and gives those trading with you confidence and peace of mind."
Business Secretary Vince Cable said:
"It's wonderful to see that even with a difficult economic climate, individuals continue to find enterprising ways of working and helping others to establish their businesses.
"The people receiving awards today are an inspiration and I congratulate them on their hard work and their achievement. The opportunity for them to join the business winners and to go to the Palace to celebrate their hard work is well deserved and I hope they have a wonderful time.
"It's important we create the right conditions for Britain's new and up-and-coming entrepreneurs to succeed and I strongly encourage businesses to start thinking about nominations for next year."
Anyone who has helped individuals to develop entrepreneurial approaches and achievements with a view to starting or building a business can be nominated for The Queen's Award for Enterprise Promotion. These activities can be both at national or local level. In London, there are two winners of the award this year:
Professor Robert Blackburn, Director of the Small Business Research Centre, Kingston University, Kingston upon Thames, London; and

Miss Victoria Lennox, Founder & Chair of Board of Trustees, National Consortium of University Entrepreneurs, London.
Recipients receive an engraved chalice and a Grant of Appointment. Business Secretary Vince Cable will present these before he, the recipients and their nominators make their way to Buckingham Palace for a reception given by HM The Queen. Representatives from each winning business will also be attending the reception.
Parveen Thornhill, Acting International Trade Director, UK Trade & Investment (UKTI) London, said:
"The sheer variety of the London International Trade winners is impressive - from manufacturers of optical sorters and digital audio mixing consoles, to food and drink suppliers, and providers of education, training and health services. Then there are the Innovation winners, whose products, including a digital information storage solution and photovoltaic solar roof tiles, are already sold overseas or have high export potential. This diversity may surprise those who think the capital's export success begins and ends with the globally respected financial and professional services sector, which is also represented.
"Winners repeatedly say that the Queen's Award helps open new doors for their business overseas. This should be an encouragement to other companies to put themselves forward. UKTI's London International Trade Team can offer tailored guidance and support to maximise a firm's international potential, which will only be enhanced by the prestige of the Queen's Award."
The application/nomination period for The Queen's Awards for Enterprise 2012 is now open and closes on 31 October. Entry is free and forms can be completed and submitted online at www.businesslink.gov.uk/queensawards. Winners will be announced on 21 April 2012.
Notes to Editors
**See the below link for the 2011 Queen's Award for Enterprise Winners names
**
http://nds.coi.gov.uk/ImageLibrary/detail.aspx?MediaDetailsID=4025
The application guide explains why businesses and individuals should apply for an award. It describes the three business categories and individual award category, and gives information on eligibility, criteria and how to apply. It also gives details of the benefits of applying for and winning an award, as well as explaining the judging processes.

There are three categories that businesses can enter for The Queen's Awards for Enterprise. These categories are
International Trade; Innovation; Sustainable Development.

There is also an individual award category - The Queen's Award for Enterprise Promotion. Each Queen's Awards category has different application criteria that must be met before application.5. To be able to apply for any of The Queen's Awards categories, businesses must: Be based in the UK - Including the Channel Islands and the Isle of Man; * Operate as a business unit of the UK economy; Have at least two full-time employees or part-time equivalents; Be able to demonstrate commercial success

Businesses can apply for more than one category as long as they meet the criteria for each category they want to apply for.

The forms for entry to the 2012 Queen's Awards can be completed and submitted online at www.businesslink.gov.uk/queensawards.

BIS's online newsroom contains the latest press notices, speeches, as well as video and images for download. It also features an up to date list of BIS press office contacts. See http://www.bis.gov.uk/newsroom for more information.

Photography: Photographs of individual winners being presented their Queen's Award for Enterprise Promotion by Vince Cable will be available from COI News & PR on Friday 15 July on 020 7261 8342/8420. For photographs from the Reception contact the Press Association picture desk, or (main switchboard) 0207 963 7000. **
Contact Information
Published 13 July 2011