News story
London Routemaster deal boost for NI
Rt Hon Theresa Villiers MP and Boris Johnson MP welcome multimillion pound deal for Wrightbus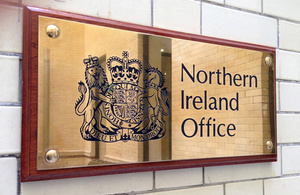 Three hundred manufacturing jobs and a supply chain stretching across Northern Ireland and the wider UK have been safeguarded by a multimillion pound deal between Transport for London (TfL) and family-owned Wrightbus for nearly 200 New Routemaster buses. The £62 million contract was confirmed today during a visit to the chassis plant by London Mayor Boris Johnson and Secretary of State for Northern Ireland Theresa Villiers.
TfL has ordered a further 195 New Routemasters, widely recognised as a classic of contemporary public transportation design. This latest tranche will swell the London fleet to just short of 1,000 by summer 2017.
Welcoming the deal, Secretary of State for Northern Ireland, the Rt Hon Theresa Villiers MP said:
I urged TfL to go ahead with this order for new buses and I am delighted that they have decided to do that. This is brilliant news for Ballymena-based Wrightbus and all the Northern Ireland firms in the supply chain who stand to gain from this significant investment by TfL.
I have been deeply committed over recent months to helping get this over the line for Northern Ireland so I am particularly pleased with this deal. These iconic buses represent a powerful link between Northern Ireland and Greater London, as well as with all the other UK firms whose expertise contributes to the outstanding qualities of this world class vehicle.
The production of 1,000 New Routemaster buses in Northern Ireland by the Wrightbus Group, which employs 2,000 local people, has sustained 300 jobs, created 100 brand new jobs and supported 120 apprenticeships. Today's order at a reduced rate of £319,000 per bus is comparable to the cost of a standard hybrid bus.
Mayor of London Boris Johnson MP said:
I am absolutely delighted to be able to confirm a further order for these superb buses. They are a masterpiece of British engineering and design, and they prove that we are capable of building a bus in the UK with cutting edge technology that simultaneously delivers jobs and growth around the country.
The Secretary of State and the Mayor also visited glazing experts and TfL suppliers Windell Ltd of Magherafelt, before meeting staff at plastics specialists Boomer Industries Ltd, Lisburn who supply materials for the New Routemaster.
Published 29 February 2016