London rioter has sentence increased after reference by the Attorney General
Adam Khan Ahmadzai was said to be at the very heart of the looting and rioting in the August 2011 disturbances.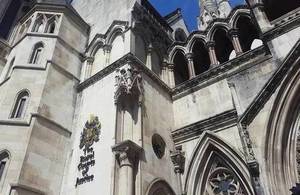 The Court of Appeal has increased the sentence of Adam Khan Ahmadzai, who, in the summer of last year, led a gang of looters along a street in Croydon during the London riots.
He pleaded guilty in January this year to crimes of violent disorder, robbery, burglary and criminal damage and was sentenced to 4 years' detention.
This was today raised to 7 years, following a referral by the Attorney General, Dominic Grieve QC MP.
Mr Grieve, who presented the case to the court said:
Adam Khan Ahmadzai was at the very heart of the looting and rioting in Croydon last August. Consider the extraordinary list of crimes that he committed: he led an attack on a police line; robbed a bus driver who had been forced to halt; armed himself and ransacked a shop, forcing the petrified owners to flee, only to rob them moments later in a hijack of their van; repeatedly attacked and mugged a terrified man at a cash machine, acting as if pushing a gun into his neck; led a gang into a supermarket, looting and vandalising; and finally, directed his group into a betting shop, destroying a fruit machine and looting the office behind the counter.
For this catalogue of mayhem and destruction he received a 4-year sentence. I'm very pleased that the Court of Appeal has today quashed that sentence and replaced it with one of 7 years.
CPS London Chief Crown Prosecutor Alison Saunders said:
We referred this case to the Attorney General as one that had attracted a sentence which was unduly lenient. I welcome the strong message that the Court of Appeal has now sent out as a result of this ruling.
Adam Khan Ahmadzai was a ringleader during the riots in Croydon and his conviction for 10 offences committed that night shows the extent of his criminality.
His offences were amongst the most serious which CPS London has prosecuted in relation to the summer riots and this increased sentence reflects that.
Published 25 April 2012