Press release
London hosts transatlantic summit for brightest creative technology companies
Industry leaders from the UK and US creative sectors arrive in London today for a 2 day Technology Innovators Forum (TIF-IN)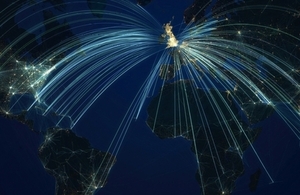 Industry leaders from the UK and US creative sectors will arrive in London today for a 2 day forum which could see tens of millions of pounds of business being done. The last Technology Innovators Forum (TIF-IN) was held in Los Angeles and resulted in over 80 UK companies winning over £60 million worth of contracts.
The second Technology Innovators Forum is being hosted by the BBC and BBC Worldwide at Broadcasting House and will bring together top names in the music, film, television, digital and video games industries from both sides of the Atlantic to encourage closer relationships and drive growth and innovation in the UK. Culture Secretary Maria Miller, Culture Minister Ed Vaizey and Chief Secretary to the Treasury, Danny Alexander will be attending the 2 day event.
TIF-IN is a collaboration between UK Trade & Investment, the BBC, BBC Worldwide, Universal Music Group and the Founders Forum. The summit will be chaired by Lord Marland, the Prime Minister's Trade Envoy, and Lucian Grainge CBE, Chairman & CEO of Universal Music Group and a UK Business Ambassador.
Business Secretary Vince Cable said:
The UK's creative industries, worth over £36 billion a year, are a world-renowned success story. Over 80 UK companies participated in the last Technology Innovators Forum in Los Angeles this past February winning over £60 million of contracts. The government is again working in partnership with the creative sector on this second forum, providing an international showcase for our world technology companies and entertainment studios.
Lord Marland said:
Today's globalised world means that now more than ever before, strong business relationships need to be forged if we in the UK are to not only maintain, but grow our reputation as a world-leading hub for the creative industries.
Lucian Grainge CBE, Chairman & CEO of Universal Music Group and UK Business Ambassador, said:
TIF-IN represents what can be achieved when people who are passionate about creative industries gather in 1 place. Our last forum was a huge success, and no doubt we will have similar results in London, which is riding a wave of confidence since the Olympics.

We are all determined to make sure that the conversations that start today will result in partnerships that last for years.
Tim Davie, CEO of BBC Worldwide said:
We are delighted to join the TIF-IN partnership and to be a part of this forum which will bring together some of the most innovative companies in the creative industries.
Brent Hoberman from Founders Forum said:
Founders Forum is delighted to support TIF-IN especially in highlighting and spotting talented UK technology start-ups that can benefit from the links with the broader creative community that they will meet at this event.
Industry leaders set to attend include Matt Brittin (Google Vice President), Rupert Gavin (Odeon CEO) and Dido Harding (TalkTalk CEO).
Notes to editors
UKTI
1.We want to make the UK the best place to start and grow a business. In the autumn the government will launch a public campaign to celebrate GREAT British business success stories. We want to inspire other small businesses and point them towards the support that can help them grow. We will also launch a new strategy for how the whole of government will back them. This will set out a range of measures to continue helping budding entrepreneurs and existing businesses succeed.
2.In the 2012 Autumn Statement, UKTI was awarded an additional £70 million for each of 2013/14 and 2014/15, enabling the recruitment of more international trade advisers around the country, expansion of existing services including the Trade Access Programme (TAP) and the Overseas Market Introduction Service (OMIS), and support to expand the range of assistance available to UK companies through overseas British chambers of commerce.
3.The government's economic policy objective is to achieve 'strong, sustainable and balanced growth that is more evenly shared across the country and between industries'. It set 4 ambitions in the 'Plan for Growth', published at Budget 2011:
to create the most competitive tax system in the G20
to make the UK the best place in Europe to start, finance and grow a business
to encourage investment and exports as a route to a more balanced economy
to create a more educated workforce that is the most flexible in Europe
Work is underway across government to achieve these ambitions, including progress on more than 250 measures as part of the Growth Review. Developing an Industrial Strategy gives new impetus to this work by providing businesses, investors and the public with more clarity about the long-term direction in which the government wants the economy to travel.
4.UK Trade & Investment (UKTI) is the government department that helps UK-based companies succeed in the global economy. We also help overseas companies bring their high quality investment to the UK's economy – acknowledged as Europe's best place from which to succeed in global business. UKTI offers expertise and contacts through its extensive network of specialists in the UK, and in British embassies and other diplomatic offices around the world. We provide companies with the tools they require to be competitive on the world stage. For more information on UKTI, visit www.ukti.gov.uk or visit the online newsroom at www.ukti.gov.uk/media.
For more information contact Harry Wingfield via 0207 215 6407 or harry.wingfield@bis.gsi.gov.uk
BBC Worldwide Ltd.
BBC Worldwide Limited is the main commercial arm and a wholly owned subsidiary of the British Broadcasting Corporation (BBC). BBC Worldwide exists to support the BBC public service mission and to maximise profits on its behalf. It does this through investing in, commercialising and showcasing content from the BBC around the world, in a way that is consistent with BBC standards and values. The business also builds the reach and reputation of the BBC brand overseas and champions British creativity.
In 2012/13, BBC Worldwide generated headline profits of £156 million and headline sales of £1,116 million and returned £156 million to the BBC. For more detailed performance information please see their Annual Review
Universal Music Group
Universal Music Group is the global music leader, with wholly owned operations in 60 territories. Its businesses also include Universal Music Publishing Group, 1 of the industry's premier music publishing operations worldwide. Universal Music Group's labels include A&M/Octone, Angel, Astralwerks, Blue Note Records, Capitol Christian Music Group, Capitol Records, Capitol Records Nashville, Caroline, Decca, Def Jam Recordings, Deutsche Grammophon, Disa, Emarcy, EMI Records Nashville, Fonovisa, Geffen Records, Harvest, Interscope Records, Island Records, Machete Music, Manhattan, MCA Nashville, Mercury Nashville, Mercury Records, Motown Records, Polydor Records, Republic Records, Universal Music Latino, Verve Music Group, Virgin Records, Virgin EMI Records, as well as a multitude of record labels owned or distributed by its record company subsidiaries around the world. The Universal Music Group owns the most extensive catalogue of music in the industry, which includes the last 100 years of the world's most popular artists and their recordings. UMG's catalogue is marketed through two distinct divisions, Universal Music Enterprises (in the U.S.) and Universal Strategic Marketing (outside the U.S.). Universal Music Group also includes Global Digital Business, its new media and technologies division and Bravado, its merchandising company.
Universal Music Group is a fully owned subsidiary of Vivendi.
For further information please contact: Richard O'Brien, Richard.obrien@umusic.com, Tel: 07768 938 209
Founders Forum
Founders Forum is a global community for entrepreneurs and business leaders in media and technology, designed to create, encourage and support entrepreneurial growth and job creation from and within the UK. Founders Forum was co-founded by Brent Hoberman (lastminute.com, Made.com, PROfounders Capital, UK Business Trade Ambassador) and Jonathan Goodwin (LongAcre, The Wireless Group, Lepe Partners) and currently hosts events in Brazil, India, the USA and UK. Video clips about the Founders Forum can be found at here
Published 14 October 2013