World news story
London conference one year on: Together for Lebanon
The UK, Germany, Norway, and Kuwait remain committed to Lebanon's stability in the years to come.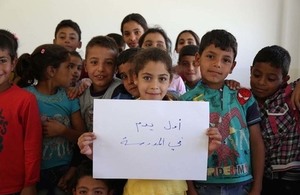 One year ago, the London Conference brought the world together in the face of a seemingly intractable conflict and agreed to try something radical and new. The event was an unparalleled success. In excess of $12 billion was pledged by the international community to support vulnerable populations in Syria and the neighbouring countries – more than has ever been committed for a humanitarian crisis in a single day. As a consequence, Lebanon has received unprecedented levels of political and financial attention: one tenth of the global humanitarian response of 2016 has been spent in Lebanon.
The Conference also signalled a new approach: one of working together as partners and one of going beyond the immediate humanitarian needs of those in desperate need: to provide multi-year funding to host communities, to improve the quality of the educational system, to promote economic initiatives and to make available new resources that allow Lebanon to address longer term development needs and create jobs.
The international community has supported 235 municipalities up and down the country to improve essential infrastructure - from street lighting, schools, and public gardens, to water supply, irrigation canals, garbage management, agricultural roads and equipment. We have funded the free enrolment for more than 200,000 additional children in public schools so that no child will miss out on the chance of an education – partnering with the Ministry of Education to improve standards and provide free textbooks for all.
There is more to do. We need to continue to work on improving the protection space for refugees and our efforts to lift everyone out of poverty, and to contribute to Lebanon's stability and social peace. We, Germany, Norway, Kuwait and the UK, remain committed to address the regional consequences and human suffering caused by the Syrian crisis and to Lebanon's stability in the years to come. We look forward to renewing these commitments at the Brussels Conference in April.
Further information
In the past year the UK spent USD 148 million, Norway USD 68.9 million, Germany USD 307 million, on humanitarian and development assistance.
Published 3 February 2017