London Conference on Cyberspace podcast
A new podcast to discuss issues and themes of the London Conference on Cyberspace has been launched today.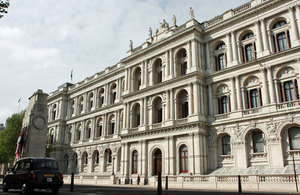 In the first episode, Richard Burge, the CEO of Wilton Park hosts a discussion with John Duncan, senior UK diplomat and Special Representative for the London Conference on Cyberspace, and Ben Hammersley, Editor at Large of Wired magazine.
The speakers discuss why the UK government is holding an international conference on cyberspace, an environment where the traditional models of legislation and state action frequently don't work.
How can governments work with businesses, and the people behind the innovation and the development of digital media to ensure that they understand the issues and can help realise the opportunities that they present for their citizens?
What are the pitfalls that governments need to avoid and how can the balance between freedom and security be managed?
The podcast is available to download via RSS or iTunes, or you can listen below:
Who can govern the ungovernable? by Foreignoffice on Mixcloud
Published 21 October 2011