London calling New Zealand agri-tech companies
The UK Department for International Trade invites New Zealand agri-tech companies to enter our competition, for a trip to London and the World Agri-Tech Innovation Summit.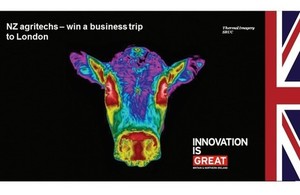 New Zealand agritech companies looking to expand to the UK, or who are seeking UK agri-tech partners or suppliers, can apply to win a business trip to the UK.
A representative from the successful applicant will fly business class direct to London, courtesy of Qatar Airways to attend the World Agri-Tech Innovation Summit in London on 17 to 18 October, Europe's largest agri-tech meeting with over 250 agribusiness leaders, farmers, tech start-ups and investors.
This initiative will identify New Zealand companies and organisations intending to take advantage of UK opportunities and will be officially launched at the Great Britain pavilion during Fieldays in Hamilton, NZ on 14 to 17 June. It is part of a wider campaign to highlight UK agri-tech opportunities across trade, investment and R&D, to New Zealand companies and organisations.
The Great Britain pavilion at Fieldays will showcase UK agri-tech expertise and offers New Zealand agri-tech companies one-on-one meetings with UK specialists. A trade exhibition of visiting British companies with products and services from across the agri supply chain: agri-technology, equipment supplies and animal health and welfare is also on show.
The Great Britain pavilion is also host to a visiting UK R&D delegation in New Zealand to identify potential partnerships and collaborations in agricultural science, technology and innovation for partnership and collaboration.
British High Commissioner, Jonathan Sinclair said:
We're excited to be at Fieldays this year and to offer a New Zealand agri-tech company the opportunity of a trip to the UK to explore new business opportunities.

Agricultural science and technology is revolutionising farm practices and rapidly becoming one of the world's fastest growing sectors. The UK's combination of world-class science, cutting edge technology, a progressive food and farming supply chain and a dynamic business environment puts it at the forefront of this revolution and makes it the ideal partner for New Zealand's own agri-industry.

Fieldays is the perfect environment to bring together businesses and stakeholders from the UK and New Zealand to share best practice and identify opportunities for trade, growth, collaboration research and development within agri-tech.
Adam Radwanski, Senior Manager Australasia for Qatar Airways said:
Qatar Airways is delighted to support trade and investment links between New Zealand and Britain. Our new route from Auckland connects Kiwi passengers seamlessly to 2 of our 6 daily flights to London and is ideal for those from the New Zealand farming and agricultural communities visiting or doing business in the UK.
How to enter
About the UK Department for International Trade
The UK's Department for International Trade (DIT) has overall responsibility for promoting UK trade across the world and attracting foreign investment to our economy. We are a specialised government body with responsibility for negotiating international trade policy, supporting business, as well as delivering an outward-looking trade diplomacy strategy. More information is at www.gov.uk/dit.
Follow us on twitter in NZ @tradegovukNZL and join DIT's Fieldays conversation with #UKatFieldays.
Media Contact
Daniel Mackisack
Public Affairs Officer
British Consulate Auckland
Daniel.Mackisack@fco.gsi.gov.uk
(021) 456 527
Published 12 June 2017