London 2012 the spark for transformation of British sport - from elite to grassroots
Sports Minister outlines sports legacy at opening of iconic Europa Centre that will be a London 2012 Training Venue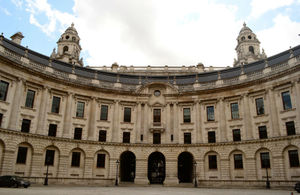 Hosting the London 2012 Olympic and Paralympic Games will be the catalyst for a revolution in British sport at all levels over the next decade, Sport and Olympics Minister Hugh Robertson announced today.
Robertson spoke of the sports legacy that would be left post London 2012 at the opening of the Europa Centre in Bexley, where he was joined by the Mayor of London Boris Johnson and British weightlifting star Zoe Smith.
Robertson said that elite sport, community sport and competitive school sport will receive a boost off the back of London 2012 that can lead to a cultural shift in Britain's sports' participation habits in the years to come.
The Sports Minister added that the Government was doing all it can to "put the building blocks in place" ahead of the Games, to ensure that sports clubs and sports governing bodies were ready to capitalise from the inspirational impact that London 2012 will bring.
He unveiled 10 key components which combined form the sports legacy from the Games:
Elite and community sport to benefit from the increase to sports share of lottery funds. Top athletes will continue to be supported post 2012, leading up to the Olympics in Rio in 2016. Community facilities to be improved across the country as a result of the lottery increase.
World class facilities - Velodrome, Olympic Stadium, Aquatics Centre, Lee Valley White Water Centre, Europa Centre all examples of state of the art facilities that will be used by elite athletes and local communities long after London 2012.
World class events - a decade of top sporting competition on British soil will continue to inspire the next generation to get involved in sport. Rugby League World Cup 2013, Commonwealth Games 2014, Rugby Union World Cup 2015, World Athletics Championships 2017, ICC Cricket World Cup 2019 a few of the highlights to come after London 2012.
Sport England's £135 million Places People Play legacy programme is upgrading facilities and increasing opportunities for people to get involved in sport. On top of that the Mayor of London's Sports Legacy programme is already making an impact on community sport across the capital with more to come.
'Inspire' programme has galvanised local authorities and community organisations to launch sport projects and bring forward investment into sport facilities in the run up to 2012. Over 900 sports projects have reached millions.
Sport England's new Youth and Community Sport Strategy launched - £1 billion programme over the next five years to help deliver on Lord Coe's promise in Singapore to inspire a generation through sport.
'Sainsbury's School Games' competition - rejuvenating competitive sport in school. Over 12,000 schools participating, inaugural finals to be held in the Olympic Park in May and a FTSE 100 sponsor secured in a four year deal.
London 2012's 'Get Set' programme has 20,000 schools signed up. Getting young people excited up and down the country ahead of the Olympic and Paralympic Games, encouraging them to be inspired by sport.
Signposting Olympic fans to join in at the grassroots. Work underway to encourage fans at the Olympic and Paralympic Games to try out sport in their local community.
International Inspiration - London 2012's overseas programme benefiting the lives of millions of children in 20 countries around the world.
Hugh Robertson said:
"Sport in this country will benefit greatly from hosting London 2012 at all levels - from elite athletes to the grassroots. It is a massive opportunity for us to drive change and encourage people up and down the country to choose sport .We are doing all we can to put the building blocks in place so that sport is ready to capitalise in the days, months and years that follow London 2012."
The Minister also highlighted the success of the Mayor's Sports Legacy Programme in London which has already seen around £40 million invested in grass roots sport helping to build or refurbish over 60 sports facilities, fund over 10,000 people to train as sports coaches and officials and support large-scale participation projects such as Parkrun and the London School of Basketball that will engage around 200,000 Londoners in physical and sporting activity.  
 
The Mayor of London, Boris Johnson, said:
"The Games are not just about one wonderful summer of sport, they must also be the catalyst and springboard for improving people's lives for many years to come. If the extraordinary success of our sports programme in the capital is anything to go by, I am absolutely confident that London 2012 will leave a lasting legacy right across this great country and that the overwhelming enthusiasm of Londoners to get out of their homes and get active will be replicated in towns and cities from Lands End to John O'Groats."
The Europa Centre in Bexley, South East London has received funding from the Olympic Delivery Authority (£1.324 million) and lottery funding from Sport England's Places People Play programme (£1.24 million) and will carry the London 2012 Inspire mark. The centre has a boxing studio, weights studio, martial arts and dance studio and gymnastics hall, as well as physiotherapy and treatment rooms.
The Centre will be a training venue for Olympic and Paralympic volleyball squads this summer.
Prior to the new facility opening the Europa Gym was based in leased premises in an outdated converted industrial building in Erith. It faced an uncertain future and owners Len and Yvonne Arnold were looking at the gym's possible closure. However Len and Yvonne worked alongside the London Borough of Bexley and the Department for Culture, Media and Sport to secure funding from outside agencies to make the new Centre a reality.
Sport England chief executive Jennie Price said:
"The Europa Centre encapsulates exactly what we're aiming to achieve with our legacy investments. Gym users from the local community can now enjoy their sport in world-class facilities. I'd like to pay particular tribute to Len and Yvonne Arnold who have put their hearts and souls into this project and helped to create a truly Iconic facility."
Notes to Editors
For further information please contact the Department for Culture, Media and Sport press office on 020 7211 6971
Places People Play update:
Launched in 2010 Sport England's £135 million Places People Play programme is already benefiting hundreds of thousands of people.
350 local sports clubs across the country have received grants in the first round of the Inspired Facilities fund to improve and upgrade facilities.
17,000 people have to date signed up to become Sports Makers - volunteering in their communities to help run local sport.
48 playing fields have so far been created, improved or protected - a number that is set to double in the next few weeks.
75,000 people are partaking in the Gold Challenge, trying out various Olympic sports in 2012.
Press Enquiries: 020 7211 2210
Out of hours telephone pager no: 07699 751153
Public Enquiries: 020 7211 6000
Published 20 May 2012