News story
London 2012 achievements signal sustainable way forward
A new guide, based on the success of the London Games, shows how procurement can be sustainable – and value for money.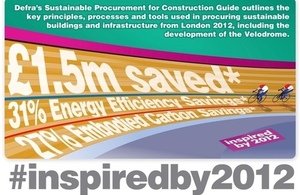 The quick reference guide, produced by the Department for Environment, Food and Rural Affairs (DEFRA), brings together London 2012's experience on sustainable procurement of construction projects.
Its aim is to assist staff in central government and the public sector to manage large or smaller procurement exercises that relate to construction in a way that achieves sustainability objectives.
London 2012 legacy: Sustainable procurement for construction projects (DEFRA)
Eight key principles are highlighted in the report: a high-level commitment to sustainability, thorough preparation, setting early targets, the value of being an 'intelligent' client, building sustainable objectives into supply chains, identifying responsibly sourced products and materials, creating a collaborative structure, and organising procurement so services can be shared.
"Sustainable procurement helps ensure value for money and lower operational costs whilst protecting the environment and bringing us wider societal benefits. London 2012 showed how this could be done practically and efficiently," said Lord de Mauley, Parliamentary Under-Secretary for Resource Management, the Local Environment and Environmental Science.
"I am keen that the lessons learned are captured and taken on board by others. This guide is being published to help give procurers of large and small construction projects the benefits of this learning".
London 2012 Learning Legacy website - Procurement section
London 2012 Learning Legacy website - Sustainability section
Published 22 August 2013