London 2012 Paralympic medals unveiled
British Museum display for the Cultural Olympiad opens.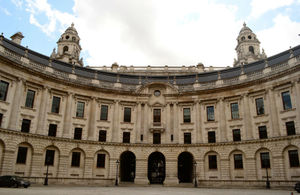 The London 2012 Paralympic Games medals have been unveiled today at the British Museum as part of a new display for the Cultural Olympiad, giving the public their first opportunity to see the medals.
The medals will be made in Britain and have been designed by Lin Cheung, a jewellery artist and senior lecturer in jewellery design.
Inspired by achievement 
The obverse side of the medal represents 'Spirit in motion' with an image of an imagined close-up section of an outstretched wing of the Greek Goddess of Victory, which has been depicted on the front of the Olympic medal since 2004. This image represents forward flight, power and lightness - a natural metaphor for the spirit of the Paralympic Games.
The reverse of the medal represents 'The heart of victory' through a depiction of the area close to the heart of the Greek Goddess of Victory to reflect inclusion and togetherness at an historical event. To further the concept of modernity and 5th century BC authenticity, the reverse is overlaid with textural qualities moulded directly from the Plaster Cast of 'The Nike of Paionios' residing in the British Museum Cast Collection.
Medal facts
The gold medal is 92.5% silver, 1.34% gold with the remainder copper (a minimum of 6g of gold)
The silver medal is 92.5% silver with the remainder copper
The bronze medal is 97.0% copper, 2.5% zinc and 0.5% tin 
In 2012 more than 2,100 paralympic medals will be presented in 502 paralympic victory ceremonies in more than 19 venues over 11 days of competition.
There is just over one week to go until the application window for tickets for the Paralympic Games closes.
Futher information
Published 19 September 2011