London 2012 Olympic Games to leave its mark on sustainable living
New funding to start projects providing a 'greenprint' to help local residents turn derelict land into refreshing green spaces, recycle more…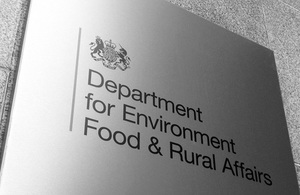 New funding to start projects providing a 'greenprint' to help local residents turn derelict land into refreshing green spaces, recycle more, and travel more sustainably, has been announced today by Environment Secretary Caroline Spelman.
Using the inspiration of the Olympic Games, Defra's £800,000 Inspiring Sustainable Living grants will help local community groups with practical and achievable ways for residents to live more sustainably.
At the Olympic Park, Caroline Spelman said:
"Most people have a real desire to do the right thing by making more sustainable choices that are good for our planet.
"London 2012 is a once in a lifetime opportunity to inspire genuine change and provide a model of how living sustainably can be incorporated into whole communities as we build a green economy. These projects will contribute by making a practical difference in the community and leave a lasting green legacy."
Start-up grants of £200,000 will be provided by Defra for each of the following projects for one year to deliver results by March 2013:
One Planet Experience (BioRegional) - will recruit 2,012 inspirational role models, including Olympians and Paralympians, to help them achieve more long-term sustainable lifestyles, and act as community leaders for sustainability.  An interactive sustainability centre at the Games will encourage athletes to make and keep their sustainability pledges. Olympic sponsor Coca-Cola will also provide support for this project.
Inspired to Sustainable Living (East Potential) - will provide practical advice and assistance to social housing tenants to increase recycling rates and develop better understanding of nutrition for disadvantaged young people.
Transform Project (Groundwork London) - will transform 20 areas of derelict land into local green spaces or community gardens, as well as improving local recycling rates and empowering people to lead more sustainable lifestyles and engage in environmental volunteering.
Active Travel Champions (Sustrans) - will provide training and support to volunteers so that they can encourage people in workplaces, schools, universities and communities to make healthier and more environmentally-friendly long-term transport choices.
BioRegional Executive Director Sue Riddlestone said:
"Having been involved with London 2012 since working on the bid-stage sustainability strategy, it is a real honour for BioRegional to continue that work by developing a One Planet Experience visitor centre in two locations. Thanks to Defra's funding, the One Planet Experience represents a unique opportunity to use the London 2012 sustainability story to inspire local community leaders and Team GB Olympians and Paralympians to adopt pro-environmental behaviours and to become environmental champions."
East Thames Director of Social and Economic Regeneration Pamela Gardner said:
"This programme provides a fantastic chance for East Thames to help our residents live greener and more sustainable lifestyles. It will also ensure a vital legacy beyond the 2012 Games as we can use the knowledge we gain to help people living in urban environments like east London to lead more sustainable lives for generations to come."
Ben Coles, Director, Communities and Local Partnerships, Groundwork London said:
"At Groundwork London we have been passionate about outdoor spaces for three decades. As a key part of the London 2012 Changing Places programme we are delighted to be teaming up with London Sustainability Exchange to work across the host boroughs to transform derelict spaces into well-used and valued community spaces as part of the London 2012 legacy. We are excited about the range of environmental volunteering opportunities this programme creates, and that people involved in the' Transform' project will be truly empowered to lead more sustainable lifestyles and change their behaviour to reduce their environmental impact."
Sustrans London Director Carl Pittam said:
"Sustrans is excited to be part of Olympic fever, playing a role in helping people to cycle and walk more in the run up to and during London 2012.  This is a real opportunity to be an Olympic host country that champions healthier and more active ways of travelling, both to the Games and as part of everyday life."
Defra worked closely with the London Organising Committee for the Olympic and Paralympic Games (LOCOG) on selecting the projects which aim to help people live more sustainable lives using the inspiration of the London 2012 Olympic and Paralympic Games. 
Projects will benefit from Olympic 'Inspire Mark' endorsement, which will mean they are also included in London 2012 official promotional materials.
Notes
The Environment Secretary visited the View Tube with the recipients of the Inspiring Sustainable Living.  The View Tube is a social enterprise and community venue located on The Greenway adjacent to the Olympic Park. London Wildlife Trust is one of the partners delivering environmental education to primary and secondary school children at the View Tube and runs volunteering sessions on the adjacent Greenway: www.wildlondon.org.uk
Published 28 March 2011