London 2012 medals handed over to the Tower of London
Official ceremony to securely store medals until they're awarded during the Olympic and Paralympic Games.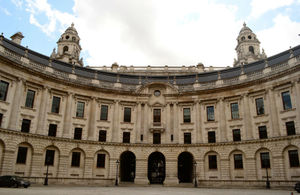 Rio Tinto, the mining company that provided the precious metals, handed over the gold, silver and bronze medals to LOCOG yesterday. The medals will be kept safe within the vaults of the Tower of London until they are needed for the Victory Ceremonies during this year's Olympic Games.
"To the athletes competing to win these medals they are as precious as the Crown Jewels," said Olympics Minister Hugh Robertson. "So it is fitting that they should be stored for safe keeping in the same iconic location."
About the medals
The Olympic medals were designed by British artist, David Watkins and the Paralympic medals were designed by Central Saint Martin's Jewellery Design Lecturuer Lin Cheung. They were produced by the Royal Mint in South Wales.
Further information
Published 3 July 2012