London 2012 mass participation sports legacy launched
£135m lottery initiative meets Singapore promise to inspire a new generation to play sport.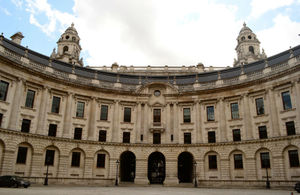 Places People Play - the Government's sports legacy from London 2012 - was launched today by the Minister for the Sport and the Olympics, Hugh Robertson.
"This is the cornerstone of a grassroots legacy from hosting the Olympic and Paralympic Games, because it delivers on the bid pledge of enabling more people of all ages and abilities to play sport," said Mr Robertson.
Lottery funding
"With more Lottery money being invested in facilities, volunteering and protecting and improving playing fields, there will be opportunities for everyone to get involved. When people talk about the legacy of the Games, we want them to talk about Places People Play - and then we want them to get out there and join in."
Sebastian Coe (London 2012), Colin Moynihan (British Olympic Association), Jennie Price (Sport England) and Tim Reddish (ParalympicsGB), whose sports bodies will help deliver the programme, gave their support to the £135m initiative at Little Venice Sports Centre.
Mass participation
Places People Play will encourage community sports participation by:
Upgrading up to a thousand local sports clubs and facilities
Investing in a number of iconic multi-sport facilities
Protecting and improving hundreds of playing fields preserving high-quality spaces for local people to play and enjoy sport
Recruiting, training and deploying 40,000 sports leaders to organise and lead grassroots sporting activities
Motivating more than 100,000 adults to test themselves in multiple Olympic and Paralympic sports, and in doing so raise millions of pounds for charity through the Gold Challenge
Giving young people the opportunity to receive six weeks of coaching in the sport of their choice and guiding them into regular participation within their community - through the Sportivate campaign
Investing £8 million on tackling the barriers disabled people face when the want to play sport, as well as ensuring that every element of Places People Play works for disabled sportspeople
Further information
Published 20 September 2011