Localism Bill starts a new era of people power
A landmark bill that heralds a ground-breaking shift in power to councils and communities overturning decades of central government control …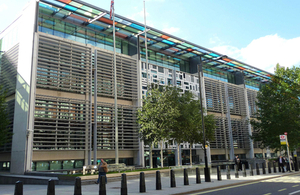 A landmark bill that heralds a ground-breaking shift in power to councils and communities overturning decades of central government control was unveiled by Communities and Local Government Secretary Eric Pickles today.
The Localism Bill will put an end to the hoarding of power within central government and top-down control of communities, allowing local people the freedom to run their lives and neighbourhoods in their own way.
The Bill, laid before Parliament today, contains a radical package of reforms that will devolve greater power and freedoms to councils and neighbourhoods, establish powerful new rights for communities, revolutionise the planning system, and give communities control over housing decisions.
The legislation will help build the Big Society by radically transforming the relationships between central government, local government, communities and individuals.
For councils the Bill will fundamentally change their freedom to act in the interest of their local communities through a new general power of competence. Rather than needing to rely on specific powers, the new power will give councils the legal reassurance and confidence to innovate, drive down costs to deliver more efficient services.
Eric Pickles said:
The Localism Bill will herald a ground-breaking shift in power to councils and communities overturning decades of central government control and starting a new era of people power.

It is the centrepiece of what this Government is trying to do to fundamentally shake up the balance of power in this country. For too long, everything has been controlled from the centre - and look where it's got us. Central government has kept local government on a tight leash, strangling the life out of councils in the belief that bureaucrats know best.

By getting out of the way and letting councils and communities run their own affairs we can restore civic pride, democratic accountability and economic growth - and build a stronger, fairer Britain. It's the end of the era of big government: laying the foundations for the Big Society.
The Localism Bill contains further measures to strengthen local democracy by:
Devolving significant new powers to councils - In a major transfer of power from Whitehall to town halls, councils will be freed from bureaucratic constraints with new freedoms and flexibilities to act in the best interests of their area. Councillors will have to approve and be required to publish new chief executive pay rules at full Council that management will have to follow. Councillors will no longer be prevented from voting on campaign issues; and there will be a new power to create directly elected mayors in 12 cities giving residents a say in a strong democratically elected leader;
Establishing powerful new rights for local people and communities - powers for councils are accompanied by greater powers for local people to hold their local authorities to account. Local people and communities' will have real power and a bigger say over their area through a new right to challenge to take over services; a new right to bid to buy local assets such as libraries, pubs and shops; a new right to veto excessive council tax rises through a referendum. Bin tax laws repealed;
Radically reforming planning - Ministers believe the current planning system is too centralised and bureaucratic, too adversarial and remote from the communities it affects. The Bill will restore democratic and local control over planning by replacing the Infrastructure Planning Commission with an efficient and democratically accountable system for major infrastructure. The Bill will enable regional planning to be swept away and in its place neighbourhood plans will become the new building blocks of the planning system where communities have the power to grant planning permission if a local majority are in favour;
Making housing fairer and more democratic - The Bill will return decision-making powers on housing to local councils and communities through a new Community Right to Build giving communities the freedom they need in order to come together to build new homes & amenities in their towns & villages. Home Information Packs will be formally scrapped. The Bill will put councils in charge of allocation and tenure of social housing, giving councils the flexibility to use their social housing stock to the maximum effect and reduce waiting lists., It will be easier for social tenants to relocate though a new National Homeswap Scheme, and councils will be able to offer flexible solutions to people at risk of homelessness. The Housing Revenue Account Subsidy System will be replaced with a more transparent system that serves local communities. Tenants will be able to scrutinise the services offered by their landlords and hold them to account. The Tenant Services Authority will be abolished but its vital economic regulation functions will be preserved;
Creating powerful incentives for economic growth - The Bill will give local government a stronger financial stake in the local economy, helping rebalance the economy, so it is more entrepreneurial and attracts local business by allowing local authorities to grant discretionary business rate discounts; making small business tax breaks easier take advantage of; giving affected businesses a greater say in rate supplements and cancelling certain backdated business rates including port taxes.
Decentralisation Minister Greg Clark said:
This Bill will provide the enduring legislative foundation for a new, decentralised Britain, where power is returned to the people to which it belongs. We believe that communities should have the freedom to manage their own affairs in their way, and be empowered, not suppressed, by Government. The Bill will enact new rights allowing local people to shape and influence the places where they live, revolutionising the planning process by passing power down to those who know best about their neighbourhoods.
Housing Minister Grant Shapps added:
With housebuilding at its lowest peacetime level since 1924, the time is right for radical shake up of the entire system. The Bill will end top-down targets - in their place communities with the vision and drive to build more homes will be given the freedom to achieve their ambitions, and this will be backed up with powerful cash incentives for councils that allow new development in their area.

With five million people languishing on social housing waiting lists, social housing is ripe for reform. Councils will now be able to manage social housing in a way that genuinely meets the needs of local people, and will be able to offer fixed tenancies that give people the helping hand they need, for as long as they need it.
Communities Minister, Andrew Stunell said:
The Localism Bill will pave the way for the long overdue push of powers out of Whitehall to councils and neighbourhoods across the country, and give local communities real control over housing and planning decisions.

Local facilities have been closing down all over the country, leaving towns and villages without vital services.

Small community groups that are willing to take over local assets often find that they lack the time and resources to get a plan together and compete with the might and muscle of big business and developers.

The powerful new rights in the Bill will put real power in the hands of real people, empowering local communities and putting them at the heart of local decision making.
Notes to editors
1. Ministers have already started giving councils greater financial freedom, by devolving and streamlining £7 billion more of government funding, removing burdens and bureaucratic controls so that they can prioritise budgets to support public services in ways which meet the priorities of local people and communities, helping to manage demand on services so they are more personalised and effective for vulnerable groups thereby reducing costs to society.
2. The Government also wants to create a new era of accountability and openness where bureaucratic accountability is replaced by democratic accountability. Putting more data in the public domain is central in making this happen and will drive smarter spending.
3. Getting council business out in the open will revolutionise local government and help facilitate the Big Society. Councils are now expected to publish all expenditure over £500 online. Local people should be able to hold their council to account. Greater openness and transparency is absolutely critical to root out waste and inefficiency.
4. General Power of Competence: Local Authorities are creatures of statute - they only have the power to do what Parliament has authorised them to do - unlike a natural person that can do anything except where that power to act is curtailed by law. Since local authorities were first incorporated power has been given to them on a piecemeal basis. Now, with General Power of Competence, local authorities can basically act in that same way as a natural person, except where restricted by statute such as creating a new tax.
5. The Government has today also published Decentralisation and the Localism Bill: an essential guide. Its sets out six actions central government will need to take to achieve and maintain the radical shift in power, - in behaviour, expectation, and culture - which must go alongside the changes in law proposed in the Bill. The guide to can be found at: www.communities.gov.uk/decentralisationguide.
Additional detail on specific Bill measures can be found at: www.communities.gov.uk/documents/newsroom/word/1795339.doc (Word, 67kb).
7. The Localism Bill has been published at: http://services.parliament.uk/bills/2010-11/localism.html (external link).
Twitter
Keep up to date with the Department by following us on Twitter (external link).
Media enquiries
Visit our newsroom contacts page for media enquiry contact details.
Published 13 December 2010