Local reoffending information published
Easy to use online maps that give a local breakdown of reoffending have been published for the first time by the Ministry of Justice.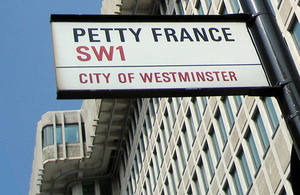 People can now go online to find out the sentences handed down by local courts, check the rate offenders have committed further crimes in their area, and make comparisons with national trends.
As part of its commitment to be open and accountable to the public the Government is now publishing official statistics on local reoffending rates that can be searched by local council area, as well as data for individual prisons and probation trust areas. The site also makes it easier to search for sentencing data from local courts.
The information for England and Wales is all now available on the new 'Making Sense of Criminal Justice' website where people can find out the facts about sentencing and criminal justice and what's really happening where they live. This includes clear information on reoffending rates for individual prisons and the number and type of sentences handed down for different offences in courts within each police force area. These new online tools are part of the Government's drive to make more information available to local people in a way that is understandable and meaningful.
Lord McNally, the minister responsible for increasing the transparency and availability of Ministry of Justice information, said:
'Making more information available in a way that is relevant to local communities is central to the Government's commitment to being open and accountable. But it's no good just publishing pages of data. We need to make sure we present it in a way that's easy to understand. That's why the Making Sense of Criminal Justice website, which includes new maps and myth busters, is such an important step forward. It will really help people to see reoffending levels in their area and give them the knowledge and, therefore, the power to hold local services to account.'
The reoffending statistics are based on a new standardised measure for reoffending data which makes it easier to understand and compare reoffending in different areas, for different offences, and for adults and young offenders. The latest data is for 2009. The sentencing data for the website includes information for the years between 2005 and 2010.
Notes to editors
See the Making Sense of Criminal Justice website at: sentencing.justice.gov.uk
More information on the Government transparency agenda can be found at: cabinetoffice.gov.uk/transparency
Please direct further media enquiries to the Ministry of Justice press office on 020 3334 3536. Follow us on twitter @MoJGovUK
Published 17 November 2011