News story
Local policing - leadership, ethics and accountability - CSPL publishes written evidence for its inquiry
The Committee carried out a public consultation as part of the policing inquiry and has published the written responses received.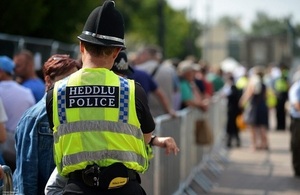 The Committee ran its consultation 'Local policing - leadership, ethics and accountability' from 6 October until 30 November 2014. More than 100 responses were received from a wide range of stakeholders, from individuals and organisations, including Police and Crime Commissioners, Police and Crime Panels, police forces, charities, the public, local government, academics and professional bodies. The written evidence received by the Committee can now be viewed online. An update note on the progress of the inquiry has also been published.
The Chairman of the Committee, Lord Bew, today gave the Annual Newsam Memorial Lecture hosted by the College of Policing at The Royal Society. The lecture, 'Delivering on core policing values - leadership and accountability', included an update on the progress of the inquiry. Lord Bew's speech can be viewed here.
If you would like to be added to the Committee's mailing lists please contact public@public-standards.gov.uk or follow us on Twitter for updates on the inquiry.
Published 10 February 2015