Press release
Local partnership ensures driving test service in Angus continues
Driving tests will continue to be available in Arbroath and Forfar following an agreement to offer tests from 2 local supermarkets.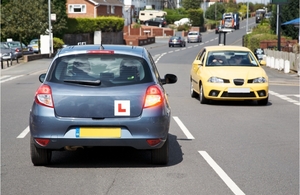 The leases on the existing driving test centres in Arbroath and Forfar expire this month, and testing was originally expected to move to the test centre in Dundee.
However, the Driving Standards Agency (DSA) has reached an agreement to provide tests from the Asda supermarkets in Arbroath and Forfar, ensuring that candidates will continue to benefit from a convenient, local service.
The agreement in Arbroath and Forfar reflects a wider strategy to offer more local services for driving test candidates. In areas without a local test centre where there is sufficient demand for tests, DSA is looking at offering tests from alternative premises such as local authority buildings or retail outlets.
Road Safety Minister Mike Penning said:
I am delighted that we can continue to provide a local service for driving test candidates in Angus. We have worked very closely with the MP for Angus, Mike Weir, and with the local community on this.

I want us to be more flexible and innovative in delivering driving tests to make sure that we are offering people the best service possible wherever they live. Our aim is to offer a local service that is convenient for candidates as well as being cost effective.
Robert Hallyburton, store manager at Asda Forfar, said:
We are delighted to be able to support this strategy, which gives space for candidates to carry out their driving tests in their local area.

Hopefully we will see many people pass with flying colours.
Testing will be conducted from the Asda supermarket in Forfar from 15 May, and in Arbroath from 28 May. Testing in both locations will operate 2 to 3 days per week, in line with the current arrangements. All tests will continue to be conducted by DSA examiners.
Published 4 May 2012