Local Enterprise Partnerships meet to showcase plans for local growth
The Prime Minister and Deputy Prime Minister today hosted the first meeting of Local Enterprise Partnerships from across the country.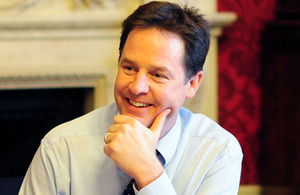 The Chairs from the 31 approved partnerships were invited to meet with ministers, including Business Secretary Dr Vince Cable and Local Government Secretary Eric Pickles, to discuss the vital role that Local Enterprise Partnerships will play in driving forward growth in their communities, and rebalancing the economy across the country. 
The Deputy Prime Minister also announced that the successful bids to the Regional Growth Fund would be announced shortly and that the second round of the fund would open on April 12. He said that due to the number of high quality bids received the funding allocated to the first round may increase.
Deputy Prime Minister Nick Clegg said:
Local Enterprise Partnerships are emblematic of the real power shift away from central Government towards local communities and the local businesses which will be at the heart of growth in their areas.

It is vital that we rebalance our economy to make it more resilient and more sustainable. The new economy we need to build will be more evenly spread, across all of our regions and between the different sectors of our economy, producing more of the goods and services required by the Green Economy of the future

That is why today's summit is so important. Rebalancing the economy will only be possible with the help of vibrant partnerships that bring together the best expertise and enthusiasm of the private sector and local government.
Government Ministers also confirmed their support for the formation of an Association of Local Enterprise Partnerships that will help them support shared learning, information exchange and better networking.
Local Enterprise Partnerships bring together local business and civic leaders, working to support their local economy.  They operate within a geography that reflects natural economic areas and provide the vision, knowledge and strategic leadership needed to drive sustainable private sector growth and job creation in their area.
Published 7 March 2011