News story
Local enterprise partnerships given helping hand to drive economy and boost growth
Partnerships were asked to bid for a share of the funding which will help them finance things such as training and other initial costs as they…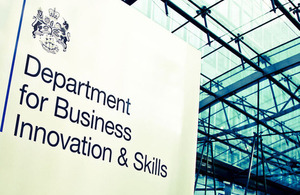 Partnerships were asked to bid for a share of the funding which will help them finance things such as training and other initial costs as they work towards establishing themselves.
The Government received 32 proposals from the partnerships, totalling £5.5 million. Of the bids received, 18 partnerships have been offered their bid in full and 14 have been offered a reduced amount. The minister made the announcement as he met with the Cornwall and the Isles of Scilly local enterprise partnership.
Business Minister Mark Prisk said:
"It's important we give local enterprise partnerships, such as the Cornwall and the Isles of Scilly partnership, as much support as we can as they set themselves up and identify what their priorities are.
"The start up fund will allow them to pay for things such as training for the board members, as well as support their work engaging with the wider business community. In some cases, the partnerships have come up with some really innovative ways of using this money.
"This financial support will help the partnerships move up a gear. I've heard today about the plans for Cornwall and the Isles of Scilly and I'm looking forward to hearing about how further LEPs translate the ideas we've seen into real action to help businesses in their area and unlock growth."
The start up fund is a one off pot of money for 2011-12. As part of each partnership's bid, they had to demonstrate how they would become self-sustaining in the future.
Ends
Notes to Editors:
---
In percentages, each partnership received the following proportions of funding bid for:
Sheffield City Region 68%
Coast to Capital 75%
North Eastern Local Enterprise Partnership 90%
Greater Cambridge and Greater Peterborough 90%
Leeds City Region 69%
Cheshire & Warrington 90%
Enterprise M3 100%
Tees Valley Unlimited 91%
South East 100%
Liverpool City Region 100%
Coventry and Warwickshire 100%
Thames Valley Berkshire 100%
Hertfordshire 90%
New Anglia 100%
Dorset 95%
Humber 100%
Leicester and Leicestershire 97%
Stoke and Staffordshire 98%
Heart of the South West 100%
Greater Lincolnshire 100%
Greater Birmingham and Solihull 73%
The Marches 93%
York and North Yorkshire 100%
South East Midlands 100%
Solent 100%
Cornwall and the Isles of Scilly 100%
The Black Country 100%
West of England 100%
Derby, Derbyshire, Nottingham, Nottinghamshire 69%
Worcestershire 100%
Cumbria 100%
Greater Manchester 100%
Local enterprise partnerships which were up and running by the end of June were able to bid for a share of the one-off £5m start. The Government expects the fund to cover start up costs such as:
Office rental;

Training; and

Engaging with the wider business community.
Partnerships that already had these functions in place were not able to bid for a share of the fund. The bids needed to demonstrate that they can bring in other sources of funding as well, and that they have a plan to become self-sustainable.
An independent panel including representatives from business, informed the decisions on the Start-Up Fund. Further detail on the methodology is available on the BIS website.

The local enterprise partnership Toolbox can be found here: [www.bis.gov.uk/leptoolbox](http://www.bis.gov.uk/leptoolbox).

The 37 partnerships now approved are:
Black Country

Cheshire & Warrington

Coast to Capital

Cornwall & the Isles of Scilly

Coventry & Warwickshire

Cumbria

Dorset

Enterprise M3

Gloucestershire

Greater Birmingham and Solihull

Greater Cambridge & Greater Peterborough

Greater Manchester

Hertfordshire

Humber

Lancashire

Leeds City Region

Leicester & Leicestershire

Lincolnshire

Liverpool City Region

London

New Anglia

North Eastern

Nottingham, Nottinghamshire, Derby & Derbyshire

Oxfordshire City Region

Sheffield City Region

Solent

South East

South East Midlands

Stoke-on-Trent & Staffordshire

Swindon and Wiltshire

Tees Valley

Thames Valley Berkshire

The Heart of the South West

The Marches

West of England

Worcestershire

York & North Yorkshire
Taken together, these 37 partnerships represent:
2m or 98 per cent of all businesses (active enterprises) in England;

23m employees (employee jobs figures) or 98 per cent of all employees in England; and

A population of 51m or 98 per cent of England's population.
A map of approved local enterprise partnerships is available from http://www.bis.gov.uk/policies/economic-development/leps

Birmingham & Solihull with E Staffordshire, Lichfield and Tamworth LEP is now known as the Greater Birmingham and Solihull LEP. Kent, Greater Essex & East Sussex LEP is now known as the South East LEP.

Rebalancing the economy to ensure that growth is shared more evenly across the country and between industries is a key part of the Government's Plan for Growth. The Government is taking a series of measures to drive growth in every town, city and community, including:
supporting the creation of LEPs;
establishing a £1.4 billion Regional Growth Fund to stimulate private-sector led growth and employment;
setting out the first ever National Infrastructure Plan to deliver the infrastructure the UK needs;
provided £530 million of investment over the coming years to deliver the best superfast broadband;
investing over £30 billion in transport projects including Crossrail and the development of High Speed Rail; and,
Encouraging investment with 21 new Enterprise Zones (EZs) across the LEP areas, which will benefit from discounts on business rates, new superfast broadband, lower levels of planning control and the potential to use enhanced capital allowances.
Notes to Editors
Contact Information
Name BIS Press Office Job Title
Division COI Phone
Fax
Mobile
Email NDS.BIS@coi.gsi.gov.uk
Name Joanna Fletcher Job Title
Division Department for Business, Innovation and Skills Phone 020 7215 5951 Fax
Mobile
Published 2 August 2011