Press release
Local authorities receive additional funding to prepare for floods
Funding will be allocated to Lead Local Flood Authorities (LLFAs).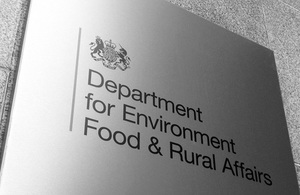 £21million worth of grants to help councils protect and support their own community when managing flood risk has been confirmed by Environment Secretary Caroline Spelman.
The funds will fully cover the costs for local authorities of putting into place and carrying out new responsibilities under the Flood and Water Management Act 2010, such as flood mapping, producing risk management plans and supporting community flood awareness groups.
The funds have been allocated based on the individual risk that each local authority has. Funding for 2011/12 will total £21 million rising to £36million for 2012/13 and subsequent years of this Spending Review period.
Environment Secretary Caroline Spelman said:
"This money will go a long way to help local flood authorities identify and deal with the risk of flooding in their own communities, Each local authority can decide where the money will be of most use - it could be used to pay members of staff, to come up with plans of dealing with surface water flooding or for generally work with the public on how best to deal with flooding."
Each lead local flood authority is set to receive at least £110,000.
Notes to editors:
Funding will be allocated to Lead Local Flood Authorities (LLFAs). LLFAs are established under the Flood and Water Management Act 2010. LLFAs are responsible for local flood risk management, including surface water.
The money will be allocated as Area Based Grant. Area Based Grant is allocated direct to each local authority. Local authorities will have complete flexibility to spend the additional funding as they see fit.
Amounts are allocated according to the risk each LLFA is expected to need to manage.
Funding is provided as part of the minimum of £2.1 billion the Government expects to spend on flood and coastal erosion risk management by 2015. Local authorities also receive funding under formula grant arrangements administered by Communities and Local Government. This year, we expect local authorities to spend about £100million on flood and coastal erosion risk management supported through formula grant arrangements.
The funding will fully support LLFAs in developing local flood risk management strategies; surface water management plans and priority actions; mapping, running oversight and scrutiny committees; and administering consents for private changes to ordinary watercourses.
The amount allocated to each local authority is listed below:
Local Authority Funding allocation (in £ 000)
2011/12 2012/13 and thereafter
Barking & Dagenham 121.7 162.7
Barnet 132.2 210.4
Barnsley 117.7 144.8
Bath & North East Somerset UA 125.9 182.0
Bedford 125.4 179.5
Bexley 130.7 203.5
Birmingham 157.0 321.8
Blackburn with Darwen UA 118.9 150.4
Blackpool UA 116.6 139.9
Bolton 119.8 154.3
Bournemouth UA 116.3 138.5
Bracknell Forest UA 119.5 153.0
Bradford 131.9 208.7
Brent 133.5 216.1
Brighton & Hove UA 140.7 248.7
Bristol UA 136.4 229.2
Bromley 141.6 252.7
Buckinghamshire 161.4 341.8
Bury 121.5 162.1
Calderdale 136.7 230.5
Cambridgeshire 162.6 347.1
Camden 134.4 220.2
Central Bedfordshire UA 128.7 194.6
Cheshire East UA 124.7 176.5
Cheshire West & Chester UA 128.5 193.5
City of London 114.4 129.8
City of Nottingham UA 132.6 212.1
Cornwall 155.8 316.4
Coventry 127.4 188.6
Croydon 141.8 253.6
Cumbria 160.8 338.9
Darlington UA 113.8 127.6
Derby City UA 124.5 175.7
Derbyshire 169.2 376.8
Devon 207.2 548.2
Doncaster 140.7 248.3
Dorset 153.6 306.6
Dudley 123.0 168.9
Durham 130.0 200.5
Ealing 126.5 184.4
East Riding of Yorkshire UA 162.4 346.4
East Sussex 157.9 326.2
Enfield 134.5 220.4
Essex 218.5 598.8
Gateshead 116.1 137.5
Gloucestershire 162.3 346.0
Greenwich 142.2 255.4
Hackney 130.8 203.9
Halton UA 115.6 135.6
Hammersmith & Fulham 159.1 331.3
Hampshire 208.2 552.6
Haringey 131.4 206.6
Harrow 124.4 175.3
Hartlepool UA 115.2 133.5
Havering 132.0 209.5
Herefordshire UA 129.8 199.5
Hertfordshire 207.2 548.1
Hillingdon 126.5 184.7
Hounslow 130.5 202.8
Isle of Wight UA 120.0 155.4
Islington 133.8 217.5
Kensington & Chelsea 131.5 207.0
Kent 260.0 750.0
Kingston upon Hull UA 193.7 487.2
Kingston upon Thames 120.5 157.5
Kirklees 138.4 238.3
Knowsley 114.8 131.9
Lambeth 150.1 291.0
Lancashire 200.1 516.2
Leeds 145.6 270.5
Leicester City UA 137.9 235.9
Leicestershire 153.1 304.5
Lewisham 143.5 261.1
Lincolnshire 238.6 689.4
Liverpool 129.1 196.2
Luton UA 124.5 175.5
Manchester 133.8 217.4
Merton 127.4 188.8
Middlesborough UA 116.3 138.8
Milton Keynes UA 120.5 157.6
Newcastle upon Tyne 118.4 148.3
Newham 146.8 276.1
Norfolk 198.6 509.2
North East Lincolnshire UA 142.4 256.2
North Lincolnshire UA 131.4 206.6
North Somerset UA 144.4 265.4
North Tyneside 115.1 133.2
North Yorkshire 168.1 371.8
Northamptonshire 149.9 290.0
Northumberland 130.3 201.6
Nottinghamshire 175.1 403.3
Oldham 121.0 159.9
Oxfordshire 157.6 324.8
Peterborough UA 118.5 148.7
Plymouth UA 119.8 154.5
Poole UA 116.2 138.0
Portsmouth UA 128.9 195.3
Reading UA 124.0 173.4
Redbridge 124.6 175.9
Redcar & Cleveland UA 117.4 143.5
Richmond upon Thames 130.2 201.4
Rochdale 124.2 174.2
Rotherham 120.2 156.3
Rutland UA 112.4 121.1
Salford 122.5 166.7
Sandwell 125.5 180.1
Scilly 111.4 116.4
Sefton 120.6 157.9
Sheffield 134.6 221.1
Shropshire 135.4 224.7
Slough UA 121.2 160.7
Solihull 118.8 149.8
Somerset 187.8 460.9
South Gloucestershire UA 124.7 176.4
South Tyneside 115.1 133.4
Southampton UA 119.9 154.7
Southend-on-Sea UA 122.3 165.7
Southwark 182.8 438.2
St Helens 119.3 152.0
Staffordshire 164.3 354.8
Stockport 121.8 163.2
Stockton-on-Tees UA 116.2 138.1
Stoke-on-Trent UA 120.7 158.3
Suffolk 172.7 392.9
Sunderland 120.6 158.1
Surrey 217.0 592.1
Sutton 125.0 177.8
Swindon UA 119.3 152.0
Tameside 119.3 152.0
Telford and the Wrekin UA 117.1 142.4
The Medway Towns UA 131.9 209.0
Thurrock UA 129.2 196.7
Torbay UA 119.6 153.7
Tower Hamlets 146.5 274.4
Trafford 117.0 141.9
Wakefield 128.2 192.2
Walsall 121.7 163.1
Waltham Forest 127.2 187.6
Wandsworth 154.7 311.7
Warrington UA 124.1 173.6
Warwickshire 142.5 256.7
West Berkshire UA 127.0 186.7
West Sussex 176.7 410.6
Westminster 158.4 328.3
Wigan 128.3 192.7
Wiltshire 153.0 303.8
Windsor & Maidenhead UA 130.1 200.7
Wirral 122.8 167.9
Wokingham UA 119.5 152.9
Wolverhampton 123.4 170.8
Worcestershire 143.3 260.2
York UA 120.0 155.3
TOTAL 21,000.0 36,000.0
Published 23 December 2010