News story
Lloyds share sales raise over £10 billion for the taxpayer
Latest sale mean the government's shareholding in Lloyds is now below 20%.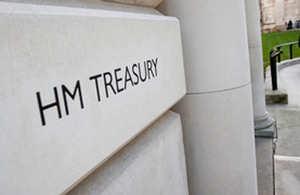 The government has sold another £500m of Lloyds Banking Group shares through the trading plan launched in December 2014, taking the total raised for the taxpayer to over £10 billion. Over half of the amount invested by the taxpayer in Lloyds has now been recovered.
The latest sales mean that the government's shareholding in Lloyds is now below 20%, down from around 40% in 2009.
All shares sold through the trading plan have been sold above the average price paid for them, which was 73.6p.
The Chancellor of the Exchequer, George Osborne said:
I'm delighted that we've now raised over £10 billion from selling our shares in Lloyds Bank. This means we have recovered over half of the taxpayers' money put into Lloyds, and now own less than 20% of the bank.

These sales have only been made possible by our long term economic plan, and we are determined to build on this success, and to continue to return Lloyds to the private sector and reduce our national debt.
A trading plan involves gradually selling shares in the market over time, in an orderly and measured way. The trading plan was launched on 17 December 2014 and will end no later than 30 June. Over £2.5 billion has been raised for the taxpayer through the trading plan so far.
At the 2015 Budget the Chancellor announced that the government will sell at least £9 billion of Lloyds shares in 2015/16.
As required by Financial Conduct Authority (FCA) rules, Lloyds Banking Group announced today that the government's shareholding in the bank has crossed through a one percentage point threshold. This announcement therefore notifies the market that the government has reduced its shareholding in Lloyds to below 20%.
Published 12 May 2015