News story
Lloyds share sale raises a further £500 million for the taxpayer
Government sells another £500 million of Lloyds Banking Group shares - taking the total amount of money raised through the trading plan to £1.5 billion.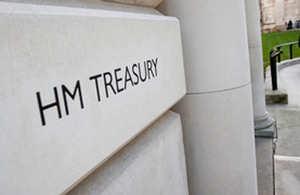 The latest sales mean that the government's shareholding in Lloyds is now below 22%, down from around 40% in 2009, and brings the total amount recovered for the taxpayer from Lloyds to over £9 billion.
All shares sold through the trading plan have been sold above the average price the previous government paid for them, which was 73.6 pence.
Today's news follows the Chancellor's announcement at last week's Budget that the government will sell at least a further £9 billion of Lloyds shares in the coming year.
The Chancellor George Osborne said:
It is fantastic news that we've raised a further £500 million for the taxpayer through the trading plan I launched in December.

Five years ago, we were bailing out the banks. Today, thanks to the success of our long term economic plan, we're selling more shares and reducing our national debt, which is now falling as a share of GDP by 2015-16.
A trading plan involves gradually selling shares in the market over time, in an orderly and measured way. The trading plan was launched on 17 December 2014 and will end no later than 30 June.
As required by Financial Conduct Authority (FCA) rules, Lloyds Banking Group announced today that the government's shareholding in the bank has crossed through a one percentage point threshold. This announcement therefore notifies the market that the government has reduced its shareholding in Lloyds to below 22%.
In February Lloyds announced that it had increased its statutory profits before tax by 325% since last year, and that it will resume dividend payments for the first time since the crisis. The dividend will provide the Exchequer with at least another £100m this year.
Published 26 March 2015