World news story
Liverpool, Alexandria looking to score a joint cooperation goal
Liverpool, Alexandria looking to score a joint cooperation goal.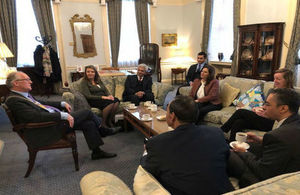 24 January - Lord Mayor of Liverpool Councillor Malcom Kennedy welcomed Alexandria Port Authority's Chairman Admiral Medhat Attia and advisor to Minister of Transport Admiral Mustafa Abdel Kader El-Deeb to the British city to explore possible cooperation between the two cities during their three-day-visit. The Egyptian officials were accompanied by British Consul-General in Alexandria Wendy Freeman and representatives from the Egyptian British Chamber of Commerce.
The Egyptian officials also met with private companies to discuss bilateral economic cooperation.
Ambassador John Casson said:
Everyone knows Liverpool and Alexandria share a love of Egyptian superstar Mohamed Salah. But the partnership is set to go deeper. Both cities are historic gateways to the world with major ports and unique identity cultural heritage. Liverpool is home of Britain's oldest mosque and Alexandria holds Africa's largest cathedral in Africa. I look forward to bigger and better cooperation between both cities to help create the strong economic future both our countries need.
Published 24 January 2018