Live webchat for M4 upgrade plans
Plans for a major upgrade to the M4 between west London and Berkshire will be the subject of a live webchat to be held on Tuesday 2 December between 1 and 2pm.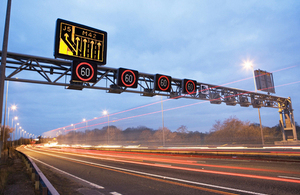 Under Highways Agency plans, around 32 miles of the M4 between London and Theale will be widened to four lanes in each direction by converting the hard shoulder to a running lane, and installing new technology along the road to help keep traffic flowing and drivers informed. The £700 million project is the biggest smart motorway upgrade yet, and is part of the biggest road improvement programme since the 1970s.
Drivers, business owners and local residents are all invited to take part. You can join in live at www.highways.gov.uk/M4webchat or submit your question in advance to M4J3to12SmartMotorways@highways.gsi.gov.uk.
Highways Agency project manager, Lynne Stinson, said:
Upgrading this busy section of the M4 is a massive job; it will cost around £700 million and involve upgrading or replacing 16 motorway bridges. We want as many people as possible to get involved in our consultation which sets out how we plan to deliver the improvements. This webchat is a great way for anyone with an interest in the project to get involved and let us know what they think.
The M4 motorway is the main strategic route between London, the West of England and Wales, connecting directly to the M25 and Heathrow Airport. The M4 carries over 130,000 vehicles per day and currently suffers from heavy congestion making journey times unreliable. Traffic flows on the M4 are forecast to increase to an average of 160,000 vehicles per day over the next 20 years, which will result in even more congestion if nothing is done.
A six week consultation on the scheme opened on Monday 10 November and the Highways Agency is keen to hear people's views on its plans. The consultation will run until Sunday 21 December.
People can take part in the consultation by completing our questionnaire which is available alongside the consultation brochure on the Highways Agency's website.
Alternatively, a questionnaire can be requested free of charge by contacting the project team by emailingM4J3to12SmartMotorway@highways.gsi.gov.uk
People can also write to the Highways Agency at:
M4 J3-12 Smart Motorway Team,
Highways Agency,
The Cube,
199 Wharfside Street,
Birmingham,
B1 1RN

General enquiries
Members of the public should contact the Highways Agency Information Line on 0300 123 5000.
Media enquiries
Journalists should contact the Highways Agency press office on 0844 693 1448 and use the menu to speak to the most appropriate press officer.
Published 24 November 2014