World news story
Live Twitter Q&A event planned in Romania with Ambassador Paul Brummell
The British Ambassador will take up questions on Tuesday, 15 September, at 11am Bucharest time (09am UK time). Use #askFCO to pose one.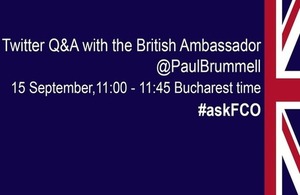 The Ambassador will talk about the UK-Romania bilateral relations. Paul Brummell: 'I am looking forward to answering your questions on my @PaulBrummell Twitter account next week'.
Paul Brummell has been ambassador to Romania since last year. He joined the Foreign & Commonwealth Office in 1987. Before that he was High Commissioner to Barbados and the Eastern Caribbean. His diplomatic career has covered a wide range of roles, many of them in Central Asia.
Published 9 September 2015