News story
Live question and answer event with Kelly Hoppen
Kelly Hoppen answered small business questions on the 'Business is GREAT Britain' Facebook page on Tuesday 11 February.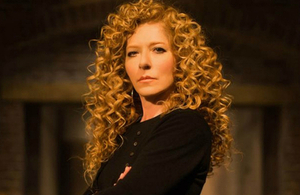 Kelly Hoppen, entrepreneur and Dragon's Den investor, spent an hour answering questions about creativity, exporting and growing your business on Tuesday 11 February from 2:30 to 3:30pm.
Kelly is an interior designer, author and entrepreneur. She runs Kelly Hoppen Interiors and has also recently launched her own online shop KellyHoppen.com, with her own designed, exclusive range of homeware products.
Kelly is passionate about entrepreneurs and encouraging them to follow their dreams and start their own businesses:
I've been running my own business now for 37 years and gained a lot of experience which I want to share with others. I was 16 when I started out and knew nothing about running my own business so I think it's important to impart what I've learned with others to help them succeed too.
Kelly is an ambassador for the Business is GREAT Britain campaign:
One of my favourite quotes from the Business is GREAT Britain team is: 'We are a nation of small businesses and should feel rightly proud of the contribution and achievements they are making every day and support for these businesses should be at the heart of long-term sustainable growth across the economy and around the country'. This is an attitude I always try and adopt and think it would be GREAT if other businesses did too.
The campaign is a partnership between private enterprise and government. It encourages you to take the leap to start up a business or grow your existing one - develop your ideas, write your business plan, employ more staff or start exporting.
The live question and answer event
Kelly answered questions about running a small business, covering:
creativity
exporting
growing your business
The event attracted a lot of interest and many people asked questions.
In addition to the Business is GREAT Britain Facebook page, you can connect with Business is GREAT Britain on LinkedIn.
Published 7 February 2014
Last updated 14 February 2014
+ show all updates
Updated to link to the summary of Kelly Hoppen's live question and answer event.
First published.