News story
Live Q&A with Foreign Office faststreamers
Two FCO faststreamers will answer Twitter questions on the diplomatic Faststream and the recruitment process on 25th September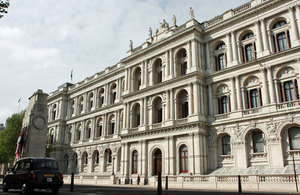 With the application window for the Civil Service Faststream scheme having recently opened, two current Foreign Office faststreamers will host a Question and Answer session on Twitter about careers in the Foreign Office and joining the Faststream. Whether you'd like to know more about the career opportunities for a faststreamer in the FCO, or get some tips on how to succeed in the assessment process this is your opportunity to find out more from people who have been through it before.
Our first faststreamer is Ciaran. Ciaran joined the FCO in 2013 on the Diplomatic Service Fast Stream, after spending two years as a primary school teacher with Teach First. In his first role, he worked on the Bosnia and Herzegovina desk, where he focussed primarily on security, and the country's progress towards membership of the EU and NATO. This year he has been working as Chief of Staff to the Director of Communication. When he finishes his current role, Ciaran will start full-time Japanese language training ahead of a positing to the embassy in Tokyo.
Our second faststreamer is Jane. Jane joined the FCO as an intern in 2012. After 11 months working on Central Asia and the South Caucasus, she joined the Diplomatic Service Fast Stream and moved to the Burma Unit covering internal politics and human rights. She is currently the Assistant Private Secretary to the Minister for Asia and the Americas.
Ciaran and Jane will be online on Friday 25th September between 13.45 and 14.45.
Please tweet your questions to @FCOCareers using #askFCO. Questions can be submitted in advance or live during the session.
Futher information
Published 21 September 2015