News story
LINC registration hits a century
One hundred companies have registered an interest in LINC with Dounreay.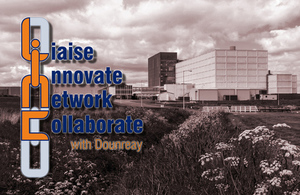 One hundred companies have registered an interest in Dounreay's new scheme to encourage innovative decommissioning solutions within the first 3 months of its launch.
Engineering consultancies, film makers and soil remediation experts are among the variety of small and medium enterprises (SMEs) with different skills and capabilities that have signalled their interest in supporting 1 of Europe's most complex decommissioning programmes by signing up to LINC – liaise, innovate, network and collaborate – with Dounreay.
Two of those registered were among 5 companies that recently took part in a workshop to assess options for size-reducing components in the Prototype Fast Reactor. IKM Consulting and AJ Engineering were given the opportunity to contribute ideas and work alongside existing suppliers in the first project launched as part of the scheme.
Stephen Adamson, Head of Commercial Services, said:
This felt like the perfect way to launch as SMEs collaborated with existing supply chain companies to develop solutions. I am delighted that 1 of the companies had never worked with us before and even more impressed that 80% of the 100 companies to register have the potential to support us for the first time.
John Harper, Reactors Principal Engineer, added:
There is a great deal of expertise within these smaller organisations that we need to tap into. It was very beneficial to have Alan and Graeme with us at the workshop and to get their views and opinions on this complex project.

Many of these companies haven't worked in the nuclear industry before, but there is no doubt that their expertise will benefit our decommissioning programme.
A recent event in Aberdeen, organised by the Energy Industries Council, added more companies from the oil and gas industry to the pool of talent registered while Sellafield has now launched its own version of LINC, increasing opportunities for collaboration between the 2 sites and their supply chain companies.
Find out more about the scheme, as well as full details about the second LINC with Dounreay opportunity which is now live, at dounreay.com/linc or at the Nuclear Decommissioning Authority supply chain event in Manchester on 2 November 2017.
Published 30 October 2017