News story
Likeminded European Ministers meet to talk about growth
The aim of the meeting at Lancaster House was to build on recent European Council agreements regarding the creation of a fully-functioning digital…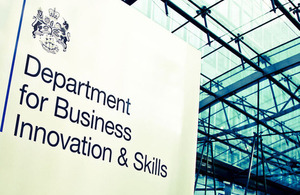 The aim of the meeting at Lancaster House was to build on recent European Council agreements regarding the creation of a fully-functioning digital single market, reducing the regulatory burden and maximising the potential of EU services.
The group consisted of Ministers from Member States that have expressed support for the EU growth agenda and its focus on the single market, trade, innovation and reducing regulatory burdens. Today's meeting was convened to help turn the high level political support for the agenda into real progress.
Edward Davey said:
"The strategy of positive engagement with our European partners is beginning to show real results.
"Today's meeting confirms how an increasing number of Member States share Britain's view on the need for an ambitious Europe wide growth agenda, and how we are co-operating more closely than ever."
Andrew McClelland, Chief Operations and Policy Officer at the Interactive Media and Retail Group also attended the meeting and presented a paper on the Digital Single Market and the Challenges Facing the EU.
The EU Single Market already adds €600 billion a year to the economy. Further liberalisation of services and the creation of a digital single market could add €800 billion more - the equivalent of making the average European household almost €4,200 better off each year.
Only 12 per cent of EU online trade is cross-border. By creating a genuine digital single market, European businesses will have access to larger markets, and consumers will find it easier to buy the products they want from neighbouring countries, providing them with more choice and cheaper prices.
---
Notes to editors:
---
Photographs from today's meeting are freely available to download from http://www.flickr.com/photos/bisgovuk/

The meeting in Lancaster House was attended by:
---
**United Kingdom
**- Nick Clegg, Deputy Prime Minister
- Edward Davey, Minister for Employment Relations, Consumer and Postal Affairs
Czech** Republic** - Martin Tlapa, Deputy Minister for EU Affairs and International Competitiveness, Ministry for Industry and Trade
Denmark - Charlotte Sahl-Madsen, Minister for Science, Technology and Innovation**
Estonia - Merike Saks, Deputy Secretary General for Internal Market, Ministry of Economic Affairs and Communication**
Finland - Janne Metsamaki, State Secretary, Ministry of Employment and the Economy**
**Ireland **- John Perry, Minister of State for Small Business
Latvia - Eduards Stiprias, Ambassador of the Republic of Latvia to the United Kingdom
Lithuania - Rimantas Zylius, Minister of Economy
Malta - Tonio Fenech, Minister for Finance, the Economy and Investment
Netherlands - Simon Smits, Director General, International Relations
Poland - Barbara Tuge-Erecinska, Ambassador of Poland to the United Kingdom**
Slovakia - Kristian Takac, Deputy Minister of the Economy
Slovenia - Iztok Jarc, Ambassador for Slovenia to the United Kingdom
Sweden - Nicola Clase, Ambassador of Sweden to the United Kingdom
BIS's online newsroom contains the latest press notices, speeches, as well as video and images for download. It also features an up to date list of BIS press office contacts. See [http://www.bis.gov.uk/newsroom](http://www.bis.gov.uk/newsroom) for more information.
Notes to Editors
Contact Information
Name BIS Press Office Job Title
Division COI Phone
Fax
Mobile
Email NDS.BIS@coi.gsi.gov.uk
Name Nick Evans Job Title
Division Department for Business, Innovation and Skills Phone 020 7215 3496 Fax
Mobile
Published 6 July 2011