Like-minded European Ministers meet to talk economic growth
Deputy Prime Minister Nick Clegg and Business Minister Edward Davey today welcomed a group of European Ministers to London, to discuss how to boost economic growth in the EU.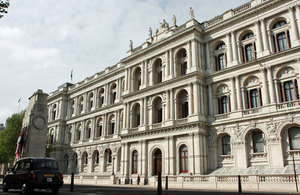 Ministers and officials from the UK and 13 other EU Member States1 met at Lancaster House to build on recent European Council agreements regarding the creation of a fully-functioning digital single market, reducing regulatory burdens in the EU and maximising the potential of EU services.
The group consisted of Ministers from Member States that have expressed support for the EU growth agenda and its focus on the single market, trade, innovation and reducing regulatory burdens. Today's meeting was convened to begin turning the high level political support for the agenda into real progress.
Business Minister Edward Davey said:
"The strategy of positive engagement with our European partners is beginning to show real results.
"Today's meeting confirms how an increasing number of Member States share Britain's view on the need for an ambitious EU growth agenda, and how we are co-operating more closely than ever."
The EU Single Market already adds €600 billion a year to the economy. Further liberalisation of services and the creation of a digital single market could add €800 billion more - the equivalent of making the average European household almost €4,200 better off each year.
Only 12 per cent of EU online trade is cross-border. By creating a genuine digital single market, European businesses will have access to larger markets, and consumers will find it easier to buy the products they want from neighbouring countries, providing them with more choice and cheaper prices.
Published 6 July 2011