News story
Lights, camera, action for ministerial visit to Pinewood Studios
Among the issues the Minister is discussing with companies in the film and television industries are those of copyright offences and what the…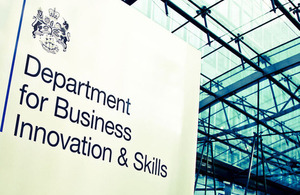 Among the issues the Minister is discussing with companies in the film and television industries are those of copyright offences and what the Intellectual Property Office (IPO) are doing to help them enforce their rights. The IPO already have an established crime group and work closely with the Federation Against Copyright Theft (FACT) to help prevent the illegal recording of films in cinemas.
Baroness Wilcox said:
"The facilities at Pinewood are fantastic and it proves that the UK has a thriving and innovative creative arts industry. The Government is committed to providing companies such as Pinewood with a solid base on which they can grow and continue to produce world class material.
"We are currently considering a range of recommendations from an independent review of intellectual property which could potentially benefit the film and television industries. Among the suggestions are to update current copyright legislation and to provide creative minds with more enforcement options to protect their intellectual property.
"It is important the Government makes the right decisions in these areas and we are taking these considerations very seriously. That is why I am making the time to meet with various representatives from the creative industries in the UK to see how we can work together going forwards."
The Government is also considering recommendations to change copyright legislation in relation to orphan works. These are materials which are held in archives, but to which the copyright owner is unknown. Currently if the owner cannot be found then that particular recording is not able to be used. A change in legislation might allow the film and television industries to open up and re-digitise archived footage which has previously been locked away. During the visit Baroness Wilcox had a tour of the studios which included the motion capture studio and underwater stage. She met and spoke to members of staff about their work and also met with Pinewood Shepperton plc Chief Executive, Ivan Dunleavy.
Mr Dunleavy said:
"We are pleased that Baroness Wilcox has come to the Studios to see how companies within the creative industries are embracing new technologies to drive growth. I am particularly pleased that the Minister met with our restoration, archive and preservation team, which works with companies that are affected by some of the issues the government is looking at in relation to orphan works.
The Government hopes to publish their response to the review of Intellectual Property shortly.
Notes to editors
The Intellectual Property Office (IPO) is within the Department for Business, Innovation, and Skills (BIS) and is responsible for the national framework of Intellectual Property rights, comprising patents, designs, trade marks and copyright.
Its role is to help manage an IP system that encourages innovation and creativity, balances the needs of consumers and users, promotes strong and competitive markets and is the foundation of the knowledge-based economy.
It operates in a national and an international environment and its work is governed by national and international law, including various international treaties relating to Intellectual Property (IP) to which the United Kingdom is a party.
Pinewood Studios is one of the leading providers of studio and related services to the worldwide film and television industry.
Photos of Baroness Wilcox with Giles Farley, Managing Director Pinewood Group Post Production, available upon request.
For further information, please contact Dan Palmer on 0207 215 5303 or e-mail communications@ipo.gov.uk.**
For more information from Pinewood studios please contact Mark Hamilton on 01753 785511 or e-mail mark.hamilton@pinewoodgroup.com**
Notes to Editors
Contact Information
Name BIS Press Office Job Title
Division COI Phone
Fax
Mobile
Email NDS.BIS@coi.gsi.gov.uk
Name Dan Palmer Job Title
Division Department for Business, Innovation and Skills Phone 020 7215 5303 Fax
Mobile
Published 13 June 2011