News story
Lift off for aerospace and manufacturing projects
The Government is investing £25 million, with business, led by Rolls-Royce, providing a further £40 million, for a series of collaborative research…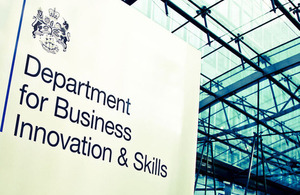 The Government is investing £25 million, with business, led by Rolls-Royce, providing a further £40 million, for a series of collaborative research and technology projects.
SAMULET II (Strategic Affordable Manufacturing in the UK through Leading Environmental Technology) will investigate new manufacturing processes aimed at increasing productivity and making the best use of resources.
The Government will separately invest £15 million in new capital equipment for the High Value Manufacturing Catapult - part of a Government backed network of technology and innovation centres - which will assist projects such as these across the advanced manufacturing sector.
The announcement came as the Business Secretary visited the Advanced Manufacturing Park (AMP) in Rotherham to perform the groundbreaking ceremony for the new Rolls-Royce Advanced Blade Casting Facility.
Dr Cable said:
"Our investment in manufacturing research and technology is a good example of Government and business working together to deliver growth
"This type of research will help ensure the UK stays at the forefront of advanced manufacturing. That is particularly true in sectors such as aerospace where we have a world leading position - and are determined to keep it that way.
"The new factory that Rolls-Royce are building will create at least 150 highly skilled jobs which doesn't just mean good news for them but for our aerospace sector and the wider economy too."
The Government investment in SAMULET II will be delivered through the Technology Strategy Board. The programme will see Rolls-Royce working with other companies and universities using the facilities available at the High Value Manufacturing Catapult - including those based at the AMP in Rotherham.
Rolls-Royce Director of Engineering and Technology Colin Smith said:
"Rolls-Royce consistently invests significant amounts of money and resource in order to improve both our products and our manufacturing capability. The vast majority of this investment also continues to improve our environmental performance. SAMULET II will build on the positive work undertaken in SAMULET I by Rolls-Royce along with our industrial and academic partners."
The new Rolls-Royce Advanced Blade Casting Facility will employ 150 people in a state of the art factory which will produce high-tech turbine blades using advanced manufacturing processes. The casting process grows a blade as a single crystal from aerospace super-alloys producing high performance, high value components that can operate under extreme conditions in the hottest part of the aero engine.
Iain Gray, Chief Executive of the Technology Strategy Board, said:
"Innovation in advanced, high value, manufacturing is fundamental to our future success and is a major driver of economic growth. As the UK's innovation agency, the Technology Strategy Board has an important role to play supporting and encouraging innovative companies to develop breakthrough manufacturing technologies - technologies that are more efficient, more sustainable, and that can exploit new product and process opportunities.
"We also welcome the further investment in the HVM Catapult, which will expand its offering of cutting edge technologies available for UK companies large and small."
The Business Secretary added:
"The work of the Aerospace Business Leaders group and the Aerospace Growth Partnership identified an important need for increased investment in manufacturing technologies, so we can produce aerospace products more efficiently and competitively. We are now acting on that with SAMULET II.
"More widely our increased investment in new capital equipment for the High Value Manufacturing Catapult underlines our commitment to keeping our manufacturing industry world class.
"Aerospace is one sector where we do have truly world-class capability. We are the number one in Europe and have the second largest industry in the world. The Government will continue to work with business to help deliver growth to the aerospace industry and I'll be saying more about that at the Farnborough Air Show next month".
**Notes to editors:
**1. The £25 million public research and development funding for SAMULET II will be more than matched by business to deliver £65 million of new collaborative research and development projects; the Government is separately investing £15 million in new capital equipment for the High Value Manufacturing Catapult, which will benefit not just Rolls-Royce and the SAMULET II programme but other companies using the facility.
The organisations involved in SAMULET II are Rolls-Royce, GKN Aerospace, four members of the High Value Manufacturing Catapult - the Advanced Manufacturing Research Centre (AMRC), the Advanced Forming Research Centre (AFRC), the National Composites Centre (NCC), and the Manufacturing Technology Centre - and the University of Birmingham.**
**3. Seven partners are working together in the High Value Manufacturing Catapult centre, which opened its doors for business in October 2011. They bring together their expertise in different and complementary areas of high value manufacturing. The HVM Catapult provides an integrated capability and embraces all forms of manufacture using metals and composites, in addition to process manufacturing technologies and bio-processing. It draws on excellent university research to accelerate the commercialisation of new and emerging manufacturing technologies.
The seven partners are: Advanced Forming Research Centre (University of Strathclyde), Advanced Manufacturing Research Centre (University of Sheffield), Centre for Process Innovation (Wilton & Sedgefield), Manufacturing Technology Centre (Coventry), National Composites Centre (University of Bristol), Nuclear Advanced Manufacturing Research Centre (University of Manchester and Sheffield) and Warwick Manufacturing Group (University of Warwick).
Single crystal turbine blades can operate at higher temperatures and so enable engines to be a) more fuel efficient and b) allow turbine blades to last longer and so reduce engine maintenance costs.

The Government's economic policy objective is to achieve 'strong, sustainable and balanced growth that is more evenly shared across the country and between industries.' It set four ambitions in the 'Plan for Growth' (PDF 1.7MB), published at Budget 2011:
To create the most competitive tax system in the G20;
To make the UK the best place in Europe to start, finance and grow a business;
To encourage investment and exports as a route to a more balanced economy;
To create a more educated workforce that is the most flexible in Europe.
Work is underway across Government to achieve these ambitions, including progress on more than 250 measures as part of the Growth Review. Developing an Industrial Strategy gives new impetus to this work by providing businesses, investors and the public with more clarity about the long-term direction in which the Government wants the economy to travel.
BIS's online newsroom contains the latest press notices, speeches, as well as video and images for download. It also features an up to date list of BIS press office contacts. See [http://www.bis.gov.uk/newsroom](http://www.bis.gov.uk/newsroom) for more information.
Notes to Editors
Contact Information
Name BIS Press Office Job Title
Division Department for Business, Innovation & Skills Phone
Fax
Mobile
Email bispress.releases@bis.gsi.gov.uk
Name Matt Barker Job Title
Division Department for Business, Innovation and Skills Phone 020 7215 5946 Fax
Mobile
Published 21 June 2012