Libya Conference participants committed to military action
Current and potential contributors to military operations in Libya underlined their commitment at yesterday's conference in London to the necessity of military action to implement United Nations Security Council Resolutions (UNSCRs) 1970 and 1973, the UK Foreign Secretary said.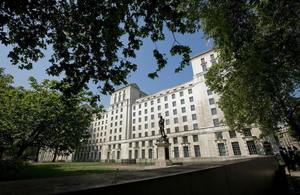 Foreign Secretary William Hague, the chair of yesterday's conference on Libya, which was attended by foreign ministers and leaders from the United Nations, the League of Arab States, the African Union, the Organization of the Islamic Conference, the European Union and NATO, issued a statement following the event's conclusion. In it, he said:
Participants today have reaffirmed the importance of full and swift implementation of UNSCRs 1970 and 1973 (2011).

Participants reaffirmed their strong commitment to the sovereignty, independence, territorial integrity and national unity of Libya. They have reaffirmed their commitment to enforce the restrictions and sanctions on the regime and to act to prevent the supply and operations of mercenaries.

We are working together to ensure that all states implement these resolutions, of which Gaddafi still stands in breach. We agreed to consider pursuing, in the UN and regional organisations, additional sanctions on individuals and entities associated with the regime.
Mr Hague's statement also goes on to talk about preparing for Libya's future and taking forward support from the international community for the people of Libya. He concluded:
This conference has shown that we are united in our aims. We are united in seeking a Libya that does not pose a threat to its own citizens, the region or more widely, and in working with the people of Libya as they choose their own way forward to a peaceful and stable future.
See Related Links to read the statement in full.
Last night, Major General John Lorimer, the Chief of the Defence Staff's Strategic Communications Officer, gave the following update on UK military operations in Libya:
Earlier this morning, as part of our ongoing support to protecting the civilians of Libya in accordance with the UNSCR 1973, two Tornado GR4 aircraft operating out of Gioia del Colle conducted armed reconnaissance and combat air patrols over Libya.

During the mission near Misurata, one Libyan armoured fighting vehicle and two artillery pieces were engaged with Brimstone missiles. Initial reports indicate that the engagements were successful.

Two Typhoon missions have been flown providing combat air patrols. The aircraft returned to Gioia del Colle without expending munitions.
Between 0600hrs 28 March and 0600hrs 29 March coalition forces undertook 198 sorties over Libya, of which approximately 14 were flown by the RAF.
Published 30 March 2011