Press release
LIBOR fines to fund armed forces charity projects
A further £1.3 million will be given to causes and charities.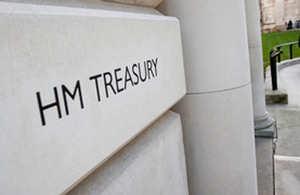 The Chancellor has today announced that a further £1.3 million will be given to causes and charities supporting the armed forces community. This money comes from fines levied on banks for attempting to manipulate the London Interbank Offered Rate (LIBOR) benchmark. The Government has already allocated £1 million of fines revenue to the Fisher House Project at Queen Elizabeth Hospital Birmingham in December 2012, alongside £1.5 million from Help for Heroes and £1.3 million from the Fisher House Foundation.
The selected causes and charities are:
The Soldiers, Sailors, Airmen and Families Association (SSAFA), which will receive £1,100,000 to fund support groups for families dealing with loss or struggling to cope with an injured loved one;
The Felix Fund will receive £65,000 to provide normalisation breaks for all 32 Explosive Ordnance Disposal teams expected to return from Afghanistan in the next 12 months. These breaks reunite the teams after their post-tour leave for five days and include outdoor pursuits such as rock climbing, abseiling and caving;
Tickets for Troops will receive £160,000 to provide free tickets to musical, sporting, entertainment and cultural events for distribution to service personnel and those who have been medically discharged;
Speaking at the Fisher House Project in Birmingham, the Chancellor said:
"Our servicemen and women make huge sacrifices on behalf of our country and represent the best of British values. That's why it is right that money received from fines banks are paying for attempting LIBOR manipulation will be used to provide our armed forces, and their families, with the support they need."
Notes for Editors
The Government allocated the £35 million to the Covenant Reference Group to support the Armed Forces Covenant. The remaining funds will be allocated over the next two years.

Fisher House is a purpose-built 18 room facility for military patients and their families within walking distance of the Queen Elizabeth Hospital. The £1 million provided by the Government in December 2012 completed the capital fundraising and allowed work to complete.
Published 23 February 2013