News story
LIBOR fine boost for wounded soldiers
Chancellor pledges £250,000 donation following his surprise visit to launch the Coldstream Guards three-day cycle ride from London to France.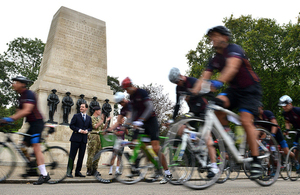 Soldiers from the army's elite Coldstream Guards who are cycling 250 miles from London to France to raise money for wounded service personnel are receiving a £250,000 donation boost from LIBOR fines, the Chancellor of the Exchequer George Osborne has announced today. This is part of more than £100 million of LIBOR fines which have been pledged by the government to support the Armed Forces and other good causes.
The Chancellor was moved to personally pledge the £250,000 donation following his surprise visit to launch the Coldstream Guards three-day cycle ride to Bennecourt, France from the Guards Memorial in Horse Guard's parade on Wednesday 17 September.
Many of the 120 serving and former members of the Coldstream Guards taking part in the Bike to Bennecourt are just back from their final deployment in Afghanistan. They are determined to raise funds for the Coldstream Guard's Charitable Trust to support wounded soldiers and their families.
The Chancellor of the Exchequer, the Rt Honourable George Osborne said:
The Coldstream Guards are true British heroes. I was honoured to give the send-off to their big charity bicycle ride to raise money for their wounded colleagues and their bereaved families.
I hope this donation helps them reach their goal. I've insisted that fines from city traders who've demonstrated the worst of values are used to support those brave soldiers who demonstrated the best of British values.
The Coldstream Guards welcomed news of the donation and thanked the Chancellor.
Speaking from France, Brigadier Greville Bibby, Regiment Lieutenant Colonel with the Coldstream Guards, who is taking part in the cycle ride, said:
The Coldstream Guards' Charitable Fund is regularly used to support the families of bereaved soldiers, injured soldiers and their families, and serving soldiers and veterans, so to receive a donation of this magnitude is a game-changer. It puts the regiment in a position where we can continue to provide for those who really need it. I am personally blown away by the Chancellor's generosity – when he called I was cycling through a valley in northern France and I don't mind admitting that I was moved to tears by this donation.
With 13 Coldstream Guards killed in action in Iraq and Afghanistan, and more than 100 injured, the charitable trust is a crucial addition to the brilliant work of the NHS and public services in supporting the families of bereaved soldiers, current and injured soldiers, and their families.
Also speaking from France, Colonel (Retired) Simon Vandeleur, The Regimental Secretary responsible for The Charitable Funds of the Coldstream Guards, said:
This is a tremendous fillip to all those who've raised £2,000 each to enter this bike ride and spent their summer training and preparing for the ride.
The cause is a good one. The Battalion completed three tours in Afghanistan and two tours in Iraq and the Regiment will continue to look after those Coldstreamers and their families in need in the future. This donation will make a significant difference.
LIBOR fines are raised through fines imposed on banks for misdemeanours and attempted manipulation of financial markets. This latest allocation builds on £35 million of LIBOR funding already given to military good causes in previous tranches, £60 million to support Armed Forces personnel, their families and veterans and a further £10 million per annum which has been earmarked from 2015 to support the Armed Forces Covenant.
About the Coldstream Guards' service in Afghanistan
During three tours of Afghanistan the Coldstream Guards have suffered significant casualties, both physical and mental, as well as fatalities. The Regiment places great emphasis in helping their long-term wounded and their families rebuild their lives and this fundraising cycle ride is designed to support that initiative.
Most recently, more than 350 personnel from the Coldstream Guards and attachments deployed to Afghanistan over the period September 2013 to August 2014. The Reconnaissance and Snipers Platoons deployed to Helmand in September 2013 as part of the 9th/12th Lancers Brigade Reconnaissance Force in Helmand Province, directly supporting the Afghan Security Forces on deliberate operations. They were in frequent contact with insurgents, and firefights were a regular occurrence. One of the Coldstream Guards snipers excelled with five confirmed kills from just one shot, hitting and detonating a suicide vest.
Number One Company and Number Two Company Coldstream Guards deployed as the Kabul Support Unit from February to August 2014, covering the busy period of the presidential election and providing support to the British Embassy, the Afghan National Army Officer Academy and to ISAF Headquarters in Kabul.
Both Companies were tasked with protecting UK bases and enabling safe movement across Kabul. They also were responsible for the safety for all UK civilian and military personnel. Number One Company was based in Camp Souter and Number Two Company was based in Camp Qargha. Prior to their deployment both Companies spent 12 months on training in Kenya, across the UK and in Germany.
There was a real development of the Afghan National Army (ANA) during the Coldstream Guards' tenure. The ANA have grown from strength to strength and are now conducting independent operations that they were not previously able to do. The Afghan National Police, in Kabul, have also shown themselves to be a skilled force preventing insurgents from bringing weapons into Kabul and keeping the streets safe during the day and night.
Published 26 September 2014