World news story
Liam Fox visits Pune to take forward the India-UK collaboration
UK Cabinet Minister visits Pune to lend support to business delegations on connected cities and advanced manufacturing.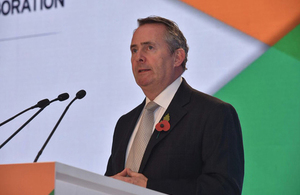 The British Secretary of State for International Trade, Liam Fox is visiting Pune (Maharashtra) on November 9, 2016 to take forward the India-UK collaboration across trade, business, skills and entrepreneurship. He is participating at the India-UK TECH Summit, alongside British Prime Minister Theresa May.
On his maiden visit to Pune after assuming office, Dr Fox will be accompanied by the British Deputy High Commissioner Mumbai Kumar Iyer. The Secretary of State will inaugurate a 'Future manufacturing and innovation workshop" with the objective to promote UK co-operation and opportunities in the advanced engineering sector.
The workshop will involve panel sessions from the visiting UK trade delegation of over 20 companies as well as Indian stakeholders. He will also be present for the signing of a Memorandum of Understanding (MoU) between UK's Precision Varionic International and the Indian Autocomponent manufacturing company, Badve Group.
UK Secretary of State for International Trade, Dr Liam Fox said:
I'm delighted to be in Pune to lead the UK smart cities delegation in a dialogue on the role UK companies can play in helping to deliver their smart city programme.

We have seen how successfully our industries collaborate, and we have seen how already our countries have invested heavily in one another. Through my visit I hope to strengthen bilateral ties between our countries. Working together on trade and investment drives economic development and growth and leads to shared prosperity.
While in Pune, Dr Fox will also chair a round-table discussion with the UK Connected Cities Mission and the Pune Municipal Commissioner to take forward the UK smart cities offer.
More than 30 of the UK's most innovative companies are in India this week making it the largest ever smart cities business delegation to visit the region. The delegation will be in Pune between 9-10 November to seek possible partnerships and collaborations with Indian companies and local authorities and offer expertise on smart city projects. The mission is a joint initiative between Innovate UK, the Department for International Trade (DIT), Enterprise Europe Network and Future Cities Catapult.
British Deputy High Commissioner Mumbai, Kumar Iyer said:
The Secretary of State and the UK delegation's visit to Pune could not have been at a better time giving a further boost to Maharashtra-UK collaborations with workshops with Indian companies and government officials across the advanced engineering, manufacturing and smart cities initiatives. As well as the UK's partnership with Pune as a smart city, British companies like Perkins and Renishaw have opened new manufacturing facilities in Maharashtra with more being considered. The relationship has never looked stronger.
Among his other important engagements in Pune; the Secretary of State will visit the Inter-University Centre for Astronomy and Astrophysics to discuss the academic co-operation with UK universities and institutions and tour the facility of Renishaw, a British company with expertise in metrology and additive equipment manufacturing that has a state of the art 3D printing facility and ambitious expansion plans in India signifying a clear India-UK collaborative effort taking shape.
To culminate the Pune visit, the British Deputy High Commissioner will host a gala reception for the Secretary of State where he will meet with industry, business and important stakeholders based out of Pune.
Further information
Connected Cities Mission: The UK partnership announced during Indian Prime Minister Modi's visit last year is delivering a number of projects ranging from transport strategy to preparing smart infrastructure masterplan with UK expertise for the Pune smart city plan.
UK transport experience and expertise helped Pune develop its strategy for Intelligent Transport Management System for public buses and the world renowned UK Urban planning expertise is assisting Pune in preparing smart infrastructure masterplan for Aundh, Baner and Balewadi areas.
Future Cities Catapult and Pune smart city are co-designing smart cities innovation hub, an unique institution that will drive innovation, foster start-up eco-system and create job opportunities with focus on addressing public service and urban infrastructure problems. Pune is also using UK expertise to prepare a blueprint for attracting private investments in transit hub and start up zones.
UK Advanced Engineering Manufacturing delegation will include- Innovate UK, High Value Manufacturing Catapult, the National Composites Centre, Manufacturing Technology Centre, Universities of Leeds and Birmingham. The delegation will show case upcoming trends like additive manufacturing, robotics, IOT / digital manufacturing and use of new materials like composites, nano-coatings.
The two delegations are part of a larger Business delegation to New Delhi, led by the British Prime Minister Theresa May at the TECH Summit between 7 – 9 November in New Delhi. The Summit was inaugurated by the Indian Prime Minister Narendra Modi and the British Prime Minister, who was on her first visit outside Europe since she took on the role. The TECH Summit is India's flagship knowledge and technology conference and exhibition in partnership with the Government of India and the Confederation of Indian Industry, providing a platform for promoting technology-intensive trade and investment.
Dr Liam Fox's biography
For media queries, please email
Prachi Jatania, Head of Communications & Public Affairs, Western India, Ph: +91 7045497517
Nazneen Sahiar, Communications & Public Affairs officer, Western India, Ph: +91 9833811617
Follow us on Twitter, Facebook, Flickr, Storify, Eventbrite, Blogs, Foursquare, Youtube, Instagram, Vine, Snapchat @UKinIndia, Periscope @UKinIndia
Published 9 November 2016