Let's eradicate polio once and for all: David Cameron
The Prime Minister called on the international community to maintain its resolve to wipe out the disease forever.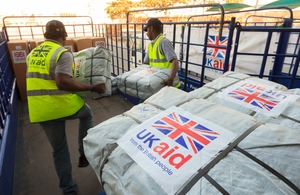 Mr Cameron spoke during a press conference at a meeting of world leaders in Perth, joining Australia's Prime Minister Gillard, Nigeria's President Jonathan, Canada's Prime Minister Harper and Pakistan's Prime Minister Gilani.
In the last 20 years, polio cases have been reduced by 99% and the disease is now close to being only the second in history - after smallpox - to be wiped out. However, polio remains active in more than a dozen countries, crippling and killing many children. 
In January, the Prime Minister announced a doubling of the UK's support to the Global Polio Eradication Initiative, to help reach over 90 million children in 2011-2012.
Andrew Mitchell, Secretary of State for International Development, said:
"Britain is at the forefront of the fight against polio. We have already provided funding for 1.2 billion doses of polio vaccine for children over the past two years and our increased commitment means many millions more will be protected from this terrible disease.
"The ultimate goal of full eradication can only be achieved if other countries and organisations play their part and release funds."
Published 29 October 2011