World news story
"Lest We Forget"-Marking Remembrance Sunday
This was published under the 2010 to 2015 Conservative and Liberal Democrat coalition government
The British High Commission (BHC) in Colombo marked Remembrance Sunday with a commemoration service on Sunday, 9 November, 2014 at the Liveramentu Commonwealth War Grave at Torrington Avenue, Colombo 7.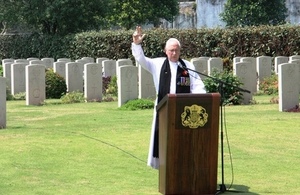 The service was presided over by Rev. Roderick Campbell, Minister of St Andrew's Scots Kirk and attended by Commonwealth High Commissioners and representatives, European Ambassadors and the War Veterans' Association of Sri Lanka among others.
Buglers from the Sri Lankan Navy played "Last Post" and "Reveille" marking the beginning and end of a minute's silence and wreaths of poppies were laid at the foot of the cross. Yesterday was a particularly important commemoration as 2014 marks 100 years since the start of World War I. To mark the occasion, four hundred and forty two poppies – one for every Sri Lankan casualty of World War One – outlined the path to the cross and the cross itself. As a symbol of reconciliation and the friendship that now endures between European nations, one of the readings was given by the German Ambassador to Sri Lanka.
Remembrance Day will be observed on Tuesday, 11 November with a two minute silence at 11 am to recall the end of hostilities of World War I in 1918. Hostilities formally ended "at the 11th hour of the 11th day of the 11th month", in accordance with the armistice signed by representatives of Germany and the Entente. The First World War officially ended with the signing of the Treaty of Versailles on 28 June 1919. Almost the entire world was involved in the war, in which over 9 million died, over 20 million were wounded and over 7 million were reported missing in action.
Sri Lanka – then Ceylon – was involved as part of the British Empire and around 2,000 volunteers from the Ceylon Defence Force are thought to have served with the Imperial and Allied forces. 9 November, 2014 marks 100 years to the day since the departure to the European front of the Milward contingent of volunteers, a force of some 75-100 volunteers from Ceylon who served with the Mounted Rifles and Planters Rifles, along with other Regiments of the British Army. 9 November, 2014 also marks 100 years ago to the day since the sinking of the German battle cruiser SMS Emden by the Australian light cruiser HMAS Sydney. Emden operated in the Bay of Bengal, and three of the ships that it sank were in the waters off Colombo.
Document information
Published: 10 November 2014