Less crime, fewer victims, safer communities
The most significant reforms to tackling re-offending and managing offenders in the community were set out today by Chris Grayling.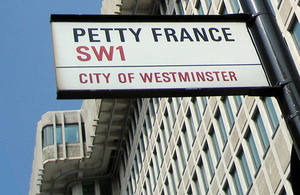 Consistently high re-offending rates have led to the radical overhaul with almost half of all prison-leavers reoffending within 12 months - for those serving less than a year that figure rises to almost 58 per cent.  Half a million crimes are committed by convicted crooks each year.
For the first time all offenders, including those serving less than 12 months, will be subject to mandatory supervision and tailored rehabilitation on release from prison. 
Further plans set out in the 'Transforming Rehabilitation' consultation paper include:
A greater use of mentors to meet offenders at the prison gate and support them in the community
Only paying in full for services that are proven to work at reducing re-offending
Opening up rehabilitation services to a much wider range of providers, who are free to innovate and do the things that work to turn offenders' lives around
Chris Grayling said:
"What we do at the moment is send people out of prison with £46 in their pocket, and no support at all. No wonder we have such high levels of re-offending. It is madness to carry on with the same old system and hope for a different result.
"Our proposals will see all of those sentenced to prison or probation properly punished while being helped to turn away from crime for good. They will also mean we only spend taxpayers' money on what works when it comes to cutting crime."
These proposals build on a consultation from last year which set out plans to open up rehabilitation services to the private and voluntary sector to drive innovation through the criminal justice system and increase the use of Payment by Results.
Published 9 January 2012