Press release
Lesley Cowley OBE appointed as Chair of DVLA
DVLA today announced the appointment of Lesley Cowley OBE as its non-executive Chair.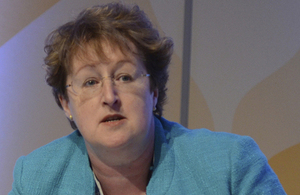 Mrs Cowley, who was previously Chief Executive of Nominet, one of the world's leading internet registry companies, will take up the post on 20 October 2014.
The new Chair joins the DVLA at a time of major change as it transforms its business to reduce costs, simplify processes and allow easier access to its services. This was one of the recommendations highlighted in the review of DVLA conducted in 2013 by DfT non-executive Board member, Mary Reilly.
Department for Transport Permanent Secretary Philip Rutnam said:
I am delighted that Lesley has been appointed as the first ever non-executive Chair of the DVLA. Lesley has a passion for IT and brings with her significant experience at a senior level in the sector. This new role will be vital in supporting and driving forward the organisation as it continues transforming its services.
Lesley Cowley said:
I am very pleased to take on this new key role at the DVLA and look forward to working with the great team to take forward the transformation of the organisation and the services it provides.
DVLA Chief Executive Oliver Morley said:
I am looking forward to working with Lesley. These are exciting and challenging times for DVLA as we continue to transform our business and Lesley's knowledge and experience will be of great benefit to help us deliver simpler, better, safer services.
-Ends-
Notes to editors
Mrs Cowley's appointment follows a review of DVLA in 2013, led by DfT non-executive Mary Reilly, where it was recommended that a non-executive chair should be appointed to work jointly with the Chief Executive on strategic direction for the Agency

DVLA is an executive agency of the Department for Transport. It is responsible for maintaining over 45 million driver records and around 37 million vehicle records. It collects over £6 billion a year in Vehicle Excise Duty. DVLA employs around 5,000 people and is based in Swansea
Press office
DVLA Press Office
Longview Road
Morriston
Swansea
SA6 7JL
Email press.office@dvla.gsi.gov.uk
Telephone (only for use by journalists and the media): 0300 123 0791
Telephone (out of office hours – only for use by journalists and the media): 0300 123 2407
Published 14 October 2014