Press release
Leicester coach company fined £10,000 after VOSA investigation
Company director fined for falsifying maintenance records and putting road users and coach drivers at risk.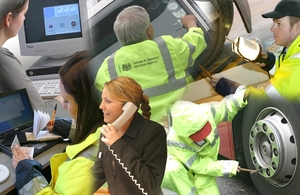 Following an investigation into a coach company operating as Ausden Clark Ltd, based at Dysart Way in Leicester, it was revealed that maintenance records had apparently been falsified and then signed as accurate by the company director, Mr Paul Ausden Clark.
Mr Clark was arrested with the assistance of local police officers on 10 July 2012.
The VOSA-led investigation centred upon examining the veracity of the information contained in the periodic maintenance inspection (PMI) records required to be kept for inspection by enforcement officers with the authority to carry out such inspections.
It was found that the odometer readings recorded on the PMI sheets did not correspond with the odometer readings recorded on the tachograph records and fuel log sheets for the same dates.
Mr Clark, who appeared at Leicester Crown Court on 20 September 2012, entered a plea of guilty to 10 counts of making a false instrument with intent that it be accepted as genuine, contrary to Sections 1 and 6 of the Forgery and Counterfeiting Act, 1981.
In addition to this, he asked for 64 similar counts to be taken into consideration (making 74 in all).
The matter was heard before His Honor Judge Hammond in court number 4 and following mitigation by his counsel Mr Clarke was sentenced to a fine of £10,000 and ordered to pay costs in the sum of £17,800. He was allowed 12 months to pay.
VOSA Operations Director Heather Cruickshank said:
The falsification of these maintenance records may well have compromised the road safety of other road users in the event of a crucial component failure in relation to the brakes, steering and suspension, especially in relation to so many falsifications.

VOSA is committed to detecting and prosecuting this type of offence, especially by those who are at director level.
Notes to editors
VOSA is responsible for:
processing applications for licences to operate lorries and buses and registering bus services
operating and administering testing schemes for all vehicles, including the supervision of the MOT testing scheme
enforcing the law on vehicles to ensure that they comply with legal standards and regulations
enforcing drivers' hours and licensing requirements
supporting Traffic Commissioners to help them make informed decisions on operator licensing, vocational drivers and bus registration requirements
providing training and advice for commercial operators
investigating vehicle accidents, defects and recalls
VOSA media enquiries
You should contact our press office if you have a media query or you're a journalist.
Published 21 September 2012