World news story
Legacy of Olympic Games passed on to the next host
British Ambassador Bowden hands over to the Brazilian Ambassador a book about London Olympics 2012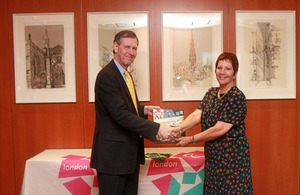 The British Ambassador, His Excellency Mr Jamie Bowden has met the Brazilian Ambassador, Her Excellency Mrs Mitzi da Costa, at the British Embassy to pass on to her the symbolic role of Host Country of the next Olympics and Paralympics.
The two Ambassadors exchanged gifts. In a statement Mr Bowden paid particular attention to the success of the Paralympic Games in the meeting commenting that the UK was still glowing from the record set by the sell-out Paralympic Games and looking forward to the first ever Festival of Disability Sport. He wished Mrs da Costa and Brazil every success in hosting the 2016 Olympics, and paid tribute to her country's great sporting tradition. The Ambassador of Brazil thanked Ambassador Bowden for the gesture and congratulated London on the successful organization and realization of the Games; she expressed her hopes that Brazil would have the same success. She wished good luck to all the participating countries and athletes who will be present in the 2016 Olympic Games.
London 2012, one of the most successful Games ever; took place last year. The UK has been busy promoting the legacy of the Games, welcoming more international tourists than ever before and encouraging more people to take up sport. From 27 July to 9 September, the UK will be celebrating the first anniversary of the Games with activities and celebrations to mark the transformation of the sporting scene in the UK since last year.
Local press coverage
Published 28 May 2013