World news story
#Lebanon2020 heroes at the heart of the Queen's Birthday Celebration
A QBP celebration highlighting the UK's contribution to Lebanon and support to #Leb2020 vision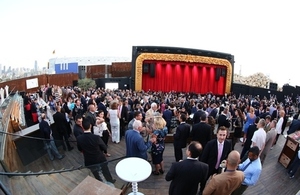 With elegance and style the British Embassy in Beirut celebrated Her Majesty the Queen's Birthday on Wednesday 10 June 2015 at Music Hall – Biel, attended by HE Dr Samir Mokbel representing Prime Minister Tammam Salam, HE MP Yassine Jaber representing Speaker of Parliament Nabih Berri and General Maroun Hitti representing Army Commander Gen. Jean Qahwaji. Also present were current and former MPs, Ministers, Ambassadors, business pioneers, representatives of the British community in Lebanon, civil society, educational experts , media personalities and others.
Addressing his guests Ambassador Fletcher said: 'I have often spoken about a vision of Lebanon 2020, the Lebanon that you are building. I predict that people will look back in 2020 and ask themselves how it was possible for Lebanon to have come through these years of regional meltdown. The answer will be clear: never underestimate the resilience of the Lebanese people. And I hope too they will also say that in this time Britain was on the side of the Lebanese people. Giving the army the training and equipment to match their courage. Giving those pupils the schoolbooks to match their aspiration. Giving those businesses the networks to match their ambition. And above all, nourishing that hope amid the rubble…… I will soon be finishing as the Ambassador to Lebanon, but I will always be an ambassador for Lebanon'. He also thanked the night's sponsors and the UK Trade and Investment team, without whom the event would have not been possible.
Throughout the evening, over 1000 guests saw first-hand – on LED and interactive screens – the UK's contribution to #Leb2020 vision, which was this year's theme aimed at demonstrating a simple equation: UK technology + Lebanese talent = exceptional dynamism.
The UK-Lebanon Tech Hub announced the 45 Lebanese winners of its start-up accelerator programme. Guests were able to meet representatives of 10 of those 45 winning companies, and inspect an interactive board showcasing how the Tech Hub is supporting the growth of the knowledge economy in Lebanon.
Ambassador Fletcher presented trophies to Lt. Christian Fahed and Lt. Alaa Amro – received by General Maroun Hitti on their behalf - from the Lebanese Armed Forces who received the Admiralty Prize from Britannia Royal Naval College and head teachers Victor Bitar (North) and Ihsan Araji (Bekaa) for their efforts to ensure all children receive a quality education.
Together, these awards acknowledged the Lebanese partnership so important to the UK's contribution to stability and prosperity: training and equipping the army to match their courage, giving pupils the schoolbooks to match their aspiration, and giving businesses the networks to match their ambition.
He also presented Deputy Ambassador Ms Abda Sharif an OBE from Her Majesty the Queen in recognition for the team effort by all staff at UK in Lebanon.
Published 12 June 2015