News story
Learning from Experience workshop: new approach to lesson-sharing
The Stabilisation Unit is bringing together teams across government to share experiences, lessons and best practice.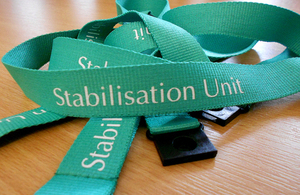 The Stabilisation Unit is HMG's centre of expertise on conflict, stability, security and justice and provides training on these topics to civil servants, serving police and military. Over the last six months the Stabilisation Unit has piloted a series of "Learning from Experience workshops", bringing together individuals working on programmes around the world together to learn from each other. The purpose is to support civil servants working on programmes in conflict-affected states to design and run them in the best possible way. Learning from Experience workshops aim to help HMG staff working in fragile and conflict-affected states to incorporate important themes into programme design and delivery and to ensure that lessons and best practice are identified and shared between teams.
The first pilot workshop in February 2016 focused on integrating gender throughout the programme cycle for the Conflict, Stability and Security Fund. Ensuring the protection and promotion of women and girls' rights in fragile and conflict affected states is a key priority for the UK Government. It is a legal requirement that the Secretary of State for International Development (or her delegated approver) considers how development assistance will contribute to reducing gender inequality before assistance is provided.
Other workshops have covered conflict sensitivity. Conflict sensitivity is acting with the understanding that any initiative conducted in a conflict-affected environment will interact with that conflict and that such interaction will have consequences that may have positive or negative effects. It is a deliberate and systematic approach to ensuring we understand and minimise these negative effects (risks) and maximise positive effects of our actions (opportunities). Read the Stabilisation Unit's new publication on Conflict Sensitivity: Tools and Guidance.
Based on best practice for adult learning, the workshops focus on three key elements:
Learning from each other by sharing lessons case studies and experience between participants
Expert-led teaching focused on integrating themes throughout the programme cycle including practical exercises
One-to-one surgeries on participants' programme documents
In order to ensure the maximum benefit from these workshops, Stabilisation Unit staff work with participants beforehand to develop relevant content, identify case studies and provide reading materials. After the workshop, participants are encouraged to stay in touch with each other and with the workshop facilitators. Participants are encouraged to form communities of practice, meaning that after the workshop they can continue to share experience, ask questions and pass on lessons.
Following the success of the first three workshops, the Stabilisation Unit has received a high level of demand for further workshops and will continue to refine this approach over the next year.
Published 5 July 2016