Press release
Leading businesses announce support for Northern Powerhouse in a "show of force for the North"
More than 40 leading businesses, universities and business networks pledging support to fire up the economy of the Northern Powerhouse.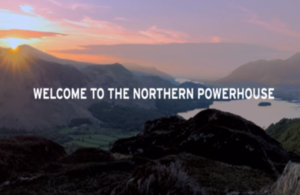 Barclays and Vodafone will be among more than 40 leading businesses, universities and business networks pledging their support to fire up the economy of the Northern Powerhouse, at a 'partnership' conference in Liverpool today (8 December 2016).
Northern Powerhouse Minister, Andrew Percy welcomed the commitment of these global brands and others, to help deliver jobs and attract new investment into the region at the conference at the Peel Port.
And to support their endeavours, the minister launched a new dedicated Northern Powerhouse website to share the latest news, views and opportunities for established businesses and new investors. It comes with figures showing investment from abroad shot up by a quarter last year, a rate twice the national average.
Northern Powerhouse Minister Andrew Percy said:
We are determined to back business growth across the Northern Powerhouse to create an economy that works for everyone. We have some of the best businesses and talent in the world.

So I'm delighted that 40 leading businesses, from Barclays to the Manchester Airports Group and Vodafone, are signed up and raring to go to make the most of all the region has to offer, in a real show of force for the North.

Our new dedicated Northern Powerhouse website allows potential investors to see what fantastic opportunities there are in the North and showcase all it has to offer.
Tony Walsh, Head of North for Barclays said:
Barclays has a strong legacy in the North of England, we employ over 12,000 people across the region and we are committed to supporting the Northern Powerhouse.

We at Barclays will keep on lending to businesses, connecting universities and business groups, and maintaining investment in digital, technology and workplace skills to boost competitiveness and opportunity for all.
Nick Jeffery, Vodafone UK CEO, said:
We are very proud to have signed up to the Northern Powerhouse. We have a high regard for the innovative energy of our thousands of Enterprise customers across the region as well as a strong belief in the benefits our local approach to business can bring.

We are committed to continuing our massive investment on our network and strategic hubs in the North and we look forward to making the region a powerhouse for the UK economy once again.
Tim Hawkins, Corporate Affairs Director, Manchester Airports Group said:
The importance of a strong Northern economy is more widely acknowledged than ever before and there is no doubt that the Northern Powerhouse vision has already shown the world that the North is both an attractive place to visit and to do business with. So it is particularly welcome that the government is continuing its focus on the Northern Powerhouse.

Manchester Airport is the North's primary international gateway and we know our growth is important is important to people living and working in all Northern regions. Businesses have a critical role to play in driving growth and collaborative working across the North and events like the one being held today will help that to happen.
Businesses giving the Northern Powerhouse the thumbs up
The North has over one million businesses, 7 international airports and 4 of the world's top universities. The economy was worth £304 billion in 2014, similar to the whole of Belgium, while last year employment growth in the North East was the fastest in the UK.
As a region, it already exports over £50 billion of goods around the globe, but there is a clear ambition to do even more. That's why today more than 40 firms will come together at Peel Port in Liverpool to discuss actions and strategies to get the economy of the Northern Powerhouse firing on all cylinders.
Companies representing different sectors and industries across the North of England and North Wales will share their experiences to help boost productivity in the region and shape the Northern Powerhouse vision.
Part of this is the Northern Powerhouse Partnership Programme, which encourages businesses to focus on the key strengths and areas of development across the North – from connectivity to transport, skills to science and from culture to devolution.
To build on this success, Andrew Percy today launched the official Northern Powerhouse website, to raise awareness and encourage engagement from businesses, local authorities and the public.
This new website will:
champion the success of those in the Northern Powerhouse including local businesses, councils, universities and others
encourage interested businesses to join the Northern Powerhouse 'partner programme' and pledge their support for the North
encourage investment by identifying opportunities across the North with figures showing investment from abroad shot up by a quarter last year - a rate twice the national average
Further information
List of Northern Powerhouse Partners attending:
aql
Arcadis
Atkins Global
Barclays
British Business Bank
Colliers International
Crawford Healthcare
Creating Inclusive Cultures
Deloitte
Downtown in Business
Drax Power Ltd
Humber LEP
IOD North East
Jodrell Bank
Lancashire City Region LEP
Lancaster University
Liverpool City Region LEP
Make It York
Manchester Airports Group
Manchester Metropolitan University
Marketing Lancashire
MC2
Medilink
Mersey Dee Alliance
N8
North Wales Business Council
Northern Health Science Alliance
Northern Power Women
Peel Group
Peel Ports
Recycling Lives
RTC North
Siemens
Transport for the North
University of Central Lancashire
University of Sunderland
Visit Hull and East Yorkshire
Vivergo Fuels
Vodafone
Yorkshire Asian Business Network
Office address and general enquiries
2 Marsham Street
London
SW1P 4DF
Contact form http://forms.communiti...
General enquiries: please use this number if you are a member of the public 030 3444 0000
Published 8 December 2016