Leaders call for results and transparency at aid forum
Development ministers from seven countries highlight their priorities for this week's aid effectiveness forum in Korea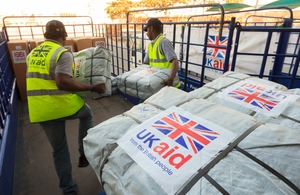 Development ministers around the world are calling for a greater focus on results and transparency at the start of this week's aid effectiveness forum in Korea.
In a joint statement ahead of the summit being held in the city of Busan, ministers from Britain, Canada, Denmark, Germany, Netherlands, Sweden, and the United States call for:
A drive for better development results
Increased transparency of aid
A strengthening of democratic governance and accountability
Greater involvement of the private sector and key development players
More ways to engage fragile and conflict-affected states
The Fourth High-Level Forum on Aid Effectiveness at Busan will bring together some 2,000 delegates from across the globe, from both developing and donor countries, including government officials, civil society organisations and private sector representatives.
The meeting is an opportunity to review global progress in improving the impact of development and make new commitments to further ensure that aid helps reduce poverty.
Speaking together, the seven minsters' joint statement said:
The Busan conference is our chance to produce a new more inclusive consensus for development results, improve the way aid is delivered, and create a broader partnership for development effectiveness with all new actors.

Bringing together emerging economies, the private sector, and civil society, Busan provides an opportunity to build a global partnership for development and help to further enable partner countries to exercise leadership for their progress.
In a separate meeting earlier in Beijing today, the UK and China also announced a new era of collaboration on international development.
Ahead of the talks in Korea, Development Secretary Andrew Mitchell met senior figures in the Chinese Government to forge a new alliance on aid.
The new partnership will focus on health, peace-keeping, climate change, and disaster response in developing countries. In the future the UK and China hope also to work together on water, agriculture and reform of the international aid system. By sharing experience and expertise the UK and China could have a real impact on reducing global poverty.
Speaking at an event at Peking University, Andrew Mitchell said:
We want to enter a new era of joint working on development between our two countries. An alliance based on comparative strengths will allow us to deliver results for the world's poorest people.

Our new partnership will be based on mutual respect, trust and an understanding of what can be achieved together.
The UK Coalition Government has made forging alliances with the emerging powers a foreign policy priority.
Published 29 November 2011